Winnipeg Free Press:  Captain is one busy Ladd.  I'm sure he, like the rest of Jets fans, is ready to see himself lace up his skates and start playing some meaningful hockey games again.
Winnipeg Free Press:  Buff only slightly tarnished.  Sounds like he should be alright.
Toronto Sun:  Addition of Winnipeg good for hockey.  It appears that what we've known in Manitoba for a long time, is finally being understood elsewhere.

Winnipeg Sun:  TSN Jets channel yet to land on MTS, Shaw.  Based on the numerous emails and texts we receive on a daily basis, I have to imagine that Bell, Shaw and MTS realize that they need to get something done to avoid a revolt here in Manitoba.  While we await word from either MTS or Shaw, IC's Michael Remis put together this handy TSN Jets FAQ.
After the jump a TON of Jets news with Glass shrugging off the pressure, Jets lose to Oilers (ugh), Yuen a role model for his community, Jet rookie gets degree first, O'Dell better than ever, Jets Swedish tough guy, questions surround availability of Byfuglien/Bogosian, Bodie signs tryout contract, Byfuglien passed breathalyzer, GM Cheveldayoff happy to have Wellwood and has Winnipeg come full circle?
Winnipeg Free Press:  Glass sees right through the pressure.  While Peggers' might be hesitant to accept anyone from Regina (after back to back losses to the Roughriders), Glass' leadership will be welcome on this young team.
Winnipeg Sun:  Jets seeing stars.  If you thought you were having a mid 80's flash back watching the Oilers beat the Jets, you weren't.  The most notable player was Oilers rookie goalie Tyler Bunz, who was the difference maker.
The Province:  Chinese NHL hockey prospect a sign of things to come.  This kids a role model not just for his athletic ability, but because he has displayed high levels of achievement in other pursuits as well.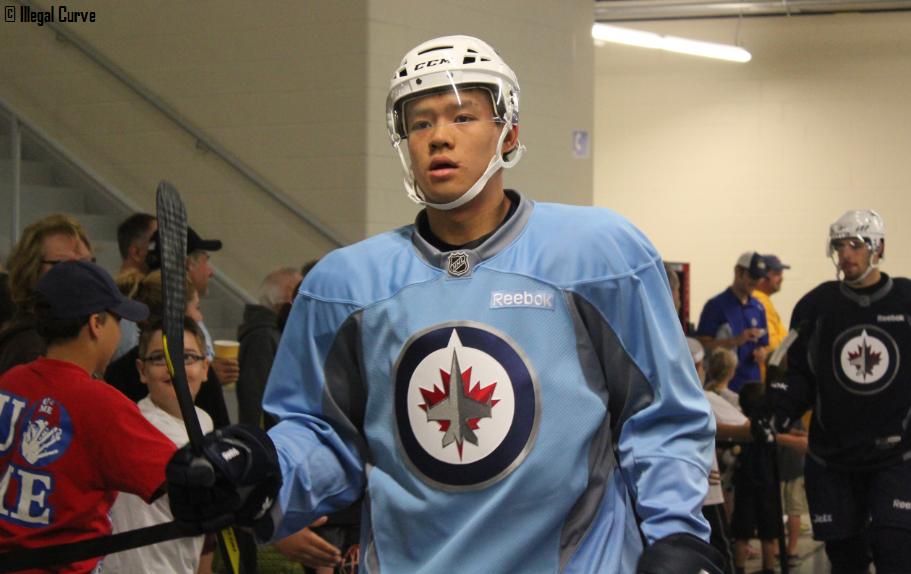 Winnipeg Sun:  Jet has safety net.  Not many guys take this route, but if hockey doesn't work out, he will always have something to fall back on.
Winnipeg Free Press:  O'Dell better than ever after heart-hole scare.  Lucky for him it was discovered and fixed and if he was previously only at 80%, perhaps he will really blossom now that he's been restored.
Winnipeg Sun:  Jets Swedish tough guy?   The Jets will have more use for him on the ice than in the penalty box.
TSN:  Question surround availability of Byfuglien and Bogosian.  Those would be some difficult holes to fill on the blue line.
Toronto Sun:  Bogosian sees himself in different light.  Hopefully once the contract has been signed, he will thrive under these admittedly tougher conditions.
Portage Online:  Bodie signs tryout contract.  The Manitoba product gives him hometown papers an interview about playing for the Jets.
National Post:  We know what you did last summer.  Just a rehash of what the Jets have been doing this summer.
Winnipeg Sun:  Byfuglien passed breathalyzer.  Which is why it's important that you wait until all the evidence comes out before you start castigating someone.
Montreal Gazette:  Atlanta needed a winning team.  Can't really argue with him.  They made the playoffs once in eleven seasons and had atrocious ownership.  Only so much fans will put up with before they rebel.
Globe and Mail:  'Winnipeg Destiny' comes full circle.  Really great read.  Perhaps we are now experiencing the "All roads lead to Winnipeg" that was predicted almost 100 years ago.
The Province:  Jets GM Cheveldayoff happy to have Welly.  A move that didn't break the bank and added some veteran depth.
Around the NHL:
Globe and Mail:  Brain tests add to hockey controversy.  If I was a parent I would have to think that I would want whatever done to ensure that my kid was safe.
Montreal Gazette:  Habs' question marks will soon be answered.  Fans in Winnipeg only care about one thing, and that is the Habs leaving town with a loss against the Jets.