Note:  Stick to @illegalcurve as we will have all the latest from today's optional skate at the MTS Centre.
Jets news:
Illegal Curve:  Coach Noel post-practice scrum.  Talks about Byfuglien practicing with the team.  Talk turns to Bogosian.  Buff expects to play on Tuesday.  Discusses importance of win over Senators.  Getting past adversity.  Kane and Burmistrov embracing the role of penalty killers.  Importance of adding speed to PK.  Possibly using Montoya in net on Tuesday.  Would he flip a coin similar to Alain Vigneault?  (joking)  Expanded role of Ron Hainsey.
Winnipeg Free Press:  Focus on the basics helps bring penalty kill back to life.  As coach Noel states and this mirrors what I thought while watching the game, the Jets PK seemed more aggressive than before.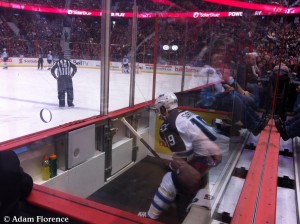 Winnipeg Free Press:  Poni isn't the goat today.  The look of surprise on his face when he tipped home the Wellwood shot and scored was classic.
Winnipeg Free Press:  Wrinkle in the crease.  Before the game had even ended we asked on twitter how long before Montoya's performance causes people to call into the post-game show with Rick Ralph stating Montoya needs to be the stater.  Big kudos to the Big Cubano who played a very solid game yesterday.  His positioning was excellent and he discarded the rust he showed against the Islanders.
Winnipeg Sun:  Ready to take Flyer on Montoya?  More on the Jets requirement to make a decision on who should start against the Flyers on Tuesday.
Winnipeg Free Press:   Encyclopedia of local sports sees final NHL game.  He was a familiar face at the rink and stadium and the Jets held a moment of silence for him before the Jets and Leafs.
Illegal Curve:  Jets on a Deadline.  Game recaps, video highlights and the NHL.com 3 Stars of the night.

Jets prospect and affiliate news:
The Telegram:  Whale sink IceCaps.  Another loss for St. John's, their third in a row.  They have a chance for revenge tonight against Connecticut.
Barrie Colts official site:  Colts come up short, lose 5 – 3 to the Saginaw Spirit.  Mark Scheifele continues his strong play in the OHL as he finished with a goal and an assist in the loss.
Swift Current Broncos official site:  Broncos blank Raiders.  Adam Lowry continues to tear up the WHL as his goal and assist helped the Broncos shutout Prince Albert.
Notre Dame Official Athletic Site:  Irish Icers hand Michigan a 6-4 loss for series sweep.  Jacob Trouba finished with 3 assists on the night although his Michigan team continues to struggle this season.
NHL news:
CBC:  IIHF's Rene Fasel says ego may keep NHL from Olympics.  Would be a real shame if ego got in the way of this opportunity.
National Post:  Markham needs to produce more research on NHL-ready arena.  Despite the need for transparency these types of deals have a way of keeping the details private, despite the need for public funds.
Roberto Luongo was the guest on Hockey Night in Canada After Hours:

Part 2: