Jets news:
Global Winnipeg:  Jets target mental-health awareness.   A worthwhile and very difficult topic to discuss.  Good for the Jets for getting behind this initiative.
Winnipeg Free Press:  Jets' mojo goes missing.  In a condensed season, it really is quite amazing how quickly your fortunes can change.  A week ago the Jets were about to embark on another road trip and could do no wrong.  One week and three losses later they are a broken team who cannot do anything right.  One can only wonder what next week will bring.
Winnipeg Free Press:  Who's hot, who's not.  Enstrom on the hot list while Pavelec is on the cool list.
Winnipeg Sun:  Back to basics.  The highs and lows of hockey team fandom is quite significant.  When the team is winning, fans talk playoffs.  When they lose it is high 1st round draft picks and need to trade the entire team.  This past week it was probably a good thing if the Jets stayed off the internet.   After taking a day off Saturday, the majority of the team (except Buff, Ladd, Little and Redmond) were back on the ice for a long skate, as coach Noel and his staff worked on getting the team back to basics.

Winnipeg Sun:  No conspiracy behind Dustin Byfuglien's mystery tweak, says Jets coach Claude Noel.  Fact and fiction often get blurred when it comes to hockey in this town.  A rumour, repeated enough, somehow makes its way all the way to the coach's press conference and was quickly dismissed.  Now the conspiracy theorists out there will likely not accept this denial but who needs facts, when you have innuendo and conjecture.  End of the article contains an amusing chat with Alexander Burmistrov who tried a sneak attack in Tampa and may try it again he says.
Illegal Curve:  Coach Noel presser.  Talking about player updates.  Buff rumours addressed.  Making changes.  Penalty Kill talk.  Team confidence level.  Helping team by looking forward.  His reaction to the losses.  Negativity in situation.  Trying to keep a balance.  When adversity strikes.  Play of Kris Versteeg against the Jets.  Updates on Miettinen and Bogosian.
Illegal Curve:  Players audio.  Following some serious road woes, the Jets took a day off on Saturday and got back to work Sunday on the ice at the MTS Centre.  Scrums with Blake Wheeler and Ondrej Pavelec.  1 on 1's with Chris Thorburn and Paul Postma.

Jets affiliate and prospect news:
St. John's official site:  IceCaps re-assign Cody Sol to Colorado.  The big man was unable to stay in the IceCaps lineup and will re-join the Eagles.  He has already played 21 games in the ECHL this season.
Winnipeg Free Press:  What's not to like about Lowry.  He has been dominant in the WHL for the Swift Current Bronocs.  The son of former NHLer Dave Lowry, he is tearing up the competition this season.
Winnipeg Free Press:  Checking in on the kids.  A roundup of the prospects in the Jets system.
NHL news:
Globe and Mail:  Once the league's marquee rivalry, Ovi no longer a match for Sid.  Looks like Jets fans were correct when they chanted "Crosby's Better".  The Pens did Winnipeg a favour as they beat the Capitals on Sunday and kept Washington in the basement of the Southeast.
Vancouver Province:  Luongo gets fourth straight start today against Oilers.  Goalie controversy!  What goalie controversy?  Sure seems like the Canucks are playing their #1 netminder.
Globe and Mail:  Canadiens beat Sens thanks to questionable call by referees.  Goalies are becoming practically untouchable, similar to quarterbacks in the NFL.  Slight contact outside of the crease is resulting in calls and nullification of goals.
Illegal Curve Hockey Show Replay: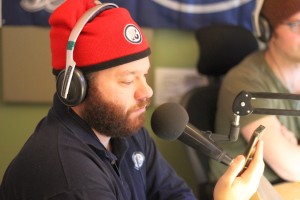 Part 1:  Winnipeg Jets vs. Tampa Bay Lightning Recap.  Jets week in review.  Interview with Chuck Gormley of CSNWashington.com.  Jets week ahead.  Time for changes to the Jets roster?  Interview with Jesse Rogers of  ESPNChicago.com.
Part 2:  Interview with Sean Fitz-Gerald of the National Post.  PK Subban re-signs with the Montreal Canadiens.  Response to Randy Turner's article in the Winnipeg Free Press "Parents who can afford it scramble to get kids into elite hockey programs".  NHL News & Notes.  Rapid Fire, Cheers & Jeers.