Note:  While I don't usually use these pages to make birthday announcements, it isn't everyday that your baba (grandmother) turns 91.  A very happy and healthy birthday wish to mine and Richard's baba who turns 91 today.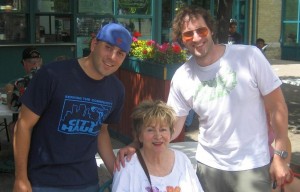 Note II: Tune into the Illegal Curve Hockey Show on TSN Radio 1290 from noon to 3 pm today as the guys discuss all the latest Winnipeg Jets and NHL news. Guests: Chuck Gormley (CSN Washington), Sean Fitz-Gerald (National Post) and Jesse Rogers (ESPN Chicago).
Jets news:
Winnipeg Free Press:  Jets put on sorry exhibition.  It was easily the worst game of the season for Winnipeg, who ended this road trip in disastrous fashion.
Winnipeg Free Press:  Fried like bacon.  About the only time the Jets weren't having their butts handed to them was for a brief moment in the 3rd period.  Other than that it felt like they were killing penalties all game long (which they were).
TSN:  Penalty kill hits rock bottom against Lightning.  The road trip which began with so much promise but ended in pretty much the worst way possible, an embarrassing loss to a division rival.
Winnipeg Sun:  Jets in a serious rut after shellacking.  When folks heard Big Buff was out of the lineup for a second consecutive game, the collective groan was practically audible from Jets nation.  It was not a pretty effort and coach Noel's subdued attitude following the game is almost worse than the anger he displayed after the Panthers game on Thursday.  Ken also looks at Pavelec by the numbers, Scheifele being back in the lineup, Postma's first goal, Enstrom's production, Burmi's sneaky play and a surprising Bolts rookie.

Winnipeg Sun:  Paul Postma's first goal a mixed blessing.  He will no longer be known as Paul Post-ma after he finally buried his first NHL goal.  He also added 2 assists in the game and continued to showcase his offensive touch.  Coach Noel said the following about his game "I  thought Postma played fairly well in the game.  He is getting experience and that is probably a good thing".
Illegal Curve:  Jets on a Deadline – Lightning 8 Jets 3.  Game recaps, coach Noel post-game comments, video highlights and the NHL.com 3 Stars of the night.
Jets official site:  Super Bowl predictions (video).  Mark Stuart, Evander Kane, Jim Slater, Mark Scheifele and Ron Hainsey make their best attempts at prognosticating the winner on Sunday.
Jets affiliate and prospect news:
TSN:  Eric O'Dell's two goals lead IceCaps past Senators.  Unlike their parent organization, the IceCaps were less penalized than their opponent and capitalized on the opportunities they were given by Binghamton.
– Adam Lowry and the Swift Current Broncos were shut out last night by the Edmonton Oil Kings while Jacob Trouba and his University of Michigan Wolverines beat arch-rival Michigan State Spartans 3-2 in front of a sold out Yost Ice Arena.  Trouba didn't have any points, but the game was televised and from what I saw before the Jets game started, his cannon from the point continues to be lights out.
NHL news:
Arizona Republic:  Coyotes saga drags on.  Seems like the Drama in the Desert has finally reached its conclusion as it appears that another prospective owner has failed to rally investors interest in preserving hockey in Glendale.
USA Today:  NHL must continue its commitment to Phoenix area.  The  "12th larget TV market" argument somewhat falls on deaf ears as this has not translated into fans in the stands and revenue for any ownership group (ever) in the desert.  While you can understand the appeal of being in the Phoenix market, end of the day how much longer can the NHL hemorrhage money while trying to keep the Coyotes in Glendale?  
CBC:  Keeping Coyotes in Phoenix is proving to be a tough sell.  If this deal was so palatable the money men would snatch it up.  Instead as Elliotte Friedman contends, it continues to prove itself to be too tough a pill to swallow. 
Globe and Mail:  Saving hockey players from themselves.   Sounds like quite a drag being on the road.
ESPN:  Gary Bettman's 20 years as commissioner have been full of ups and downs.  To Jets fans he is both a villain and hero.  While many in these parts will never forgive him for his role in not preventing the Jets departure in the mid 90s, he was also cheered at the Home Opener of the Jets 2.0, a return of NHL to Winnipeg which many said would not have happened unless given his blessing.  Whatever you think of Gary Bettman he has led the NHL for over two decades and has left an indelible mark on the game.