Note:  Stay tuned to IC for all the post-game audio from coach Noel, the Jets/Islanders dressing rooms and our post-game podcast from the pressbox.
Note II:  Be sure to stay tuned to @illegalcurve as we will be bringing you all the latest from the MTS Centre as the Islanders visit the Jets. During the game you can win IC Gear by participating in our twitter 50/50 and Game Winning Goal contests. Remember that for your vote to qualify you must send in your guess by hashtaging (#) our 50/50 contest or the Game Winning Goal (GWG) contest.  (i.e.  #IC5050 $42,375 or #ICGWG Kane.)
Jets news:
Winnipeg Free Press:  Montoya to start against Islanders.  Coach Noel wanted to get his goalie some action and chose to throw him in against his former squad.
Winnipeg Free Press:  The cost of love.  True North and the Jets are receiving some very favourable tax breaks to ensure the long term viability of this franchise.   Does this grind your gears or are you fine with breaks for this corporation?
Winnipeg Free Press:  Antro quietly contributing.  If you listened to coach Noel last week he was gushing over the play of the Jets big forward.  While it hasn't translated into points, he is certainly doing the intangibles that coaches seem to love.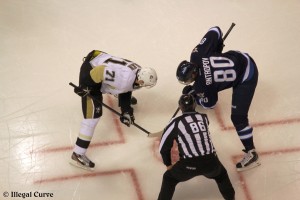 Winnipeg Free Press:  Kane not paid to pass.  What we are seeing is an important aspect of the sniper's development and Jets fans should be very happy to see that the previously shoot first young gun, has added some crisp passing into his repertoire.
Winnipeg Free Press:  Hainsey 13th in THN's top 100 influential hockey people.  Many expect that when his hockey career is over, he will move on to NHLPA management.
Winnipeg Sun:  Out to avoid letdown against Islanders after big win.  The Jets cannot take this Islanders team lightly and certainly cannot afford to have a letdown tonight.  Hopefully the crowd will be just as into the game on a Sunday night as they were on Friday evening.

Winnipeg Sun:  Al Montoya waiting for the call against Islanders.  Will tonight be the night that the Jets backup finally gets his first start?  Will Montoya get a chance to play against his former team?  Coach Noel has played his goalie choices close to the vest but we will be sure to let you know after the pre-game skate.  Update:  It appears from practice that Al Montoya will get the start.
Winnipeg Sun:  Dale Hawerchuk gets Queen's Diamond Jubilee medal.  This is awarded to Canadians who have made an impact on the country and fans across this Province would agree that Ducky has continued to make his presence felt since that day he was drafted back in 1981.
Winnipeg Free Press:  Noel keeps mum on lineup against Islanders.  While the coach may not be speaking it hardly seems likely that he will change his lineup after an impressive come from behind victory over the Penguins.  As with the goalie situation we will let you know from after the pre-game skate if there are any changes.
Jets affiliate and prospect news:
TSN:  Crunch down IceCaps in game that features goalie fight.  Unfortunately for the IceCaps they don't award points for fighting.  Even when you let your goalies get involved.

University of Michigan Wolverines:  U-M succumbs to Western Michigan.  First round pick in 2012 Jacob Trouba made his impact felt on the boxscore but it was with his fists in the loss last night.  He finished with 1 assist, 4 shots on goal and -1.
Swift Current Broncos:  Broncos suffer tough loss to Warriors.  Adam Lowry finished with 2 assists and was voted 3rd star of the game.
NHL news:
Illegal Curve:  Detroit Red Wings GM Ken Holland on Illegal Curve Hockey Show.  He spoke about: The increase in scoring coming out of this seasons lockout.  The similarities of the retirements of Yzerman and Lidstrom and how they effected the team.  How the recently retired Tomas Holmstrom was such an effective player.  Taking the time to fully develop a player.  The evolution of Mike Babcock as a coach.  Lengthening overtime.  Playing games outside of their own time zone.
St. Louis Post Dispatch:  Redden makes his Blues debut.  And what a debut it was.  The Blues won and he scored his first goal since March 18th, 2010.
Chicago Sun-Times:  Hawks tie franchise best start with win over Jackets.  Helped that a big portion of the crowd in Columbus appeared to be cheering for the Hawks.
San Jose Mercury News:  Patrick Marleau scores 2 more goals.  He accomplished something that hadn't been done since 1917, and that was score 2 goals in each of the first 4 games to start a season.