Note:  While we usually promote the Illegal Curve Hockey Show every Friday, we are happy to announce that Red Wings General Manager Ken Holland will be a guest on the show this Saturday.  As always stay tuned to TSN Radio 1290 from noon to 3 pm to catch all the latest NHL and Winnipeg Jets action.
Jets news:
Jets official site:  2012-13 Winnipeg Jets player introductions (video).  If you misssed the festivities to open the game against the Ottawa Senators, here you go.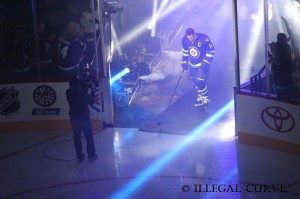 Winnipeg Free Press:  Crosby aware of atmosphere at MTS Centre.  I suspect that the MTS Centre crowd has had a year to plan an appropriate Crosby cheer for tomorrow night's game.
Winnipeg Free Press:  Premature pronouncements.  It is too early too anoint the Jets as playoff bound, but it is safe to say that early on we have seen some pretty nice signs from this team.  Ed looks at the positives as well as where some question marks remain.
Winnipeg Free Press:  Jets leaders.  A look at the leaders in categories like points, goals, assists, plus/minus, penalty minutes, shots as well as some on the bubble and on the mend talk.

Winnipeg Free Press:  Tax breaks for Jets a winning bet — for now.  Tax breaks for True North are hardly surprising and are simply a price to be paid to have a luxury such as an NHL franchise.  Fair or foul?
Winnipeg Sun:  Wheeler-Kane combination looks like a hit.  If this line sticks together they will have speed to burn.  Wheeler and Kane looked very good together and when you throw in Jokinen the Jets have themselves a bona fide 1st line.
Winnipeg Sun:  Coach Noel happy with road trip.  The coach was clearly enthused about the victory over Washington and the strong shootout loss against the Bruins but he was rightly not declaring himself a playoff success story just yet.  As he pointed out during his presser, the Jets haven't forgotten the home opener.  He gave the team the day off on Wednesday and the guys will be back out on the ice today getting ready for the Penguins.  Stick with illegalcurve.com as we will have audio from players and coach Noel following today's practice.
Winnipeg Sun:  Stuart, Hainsey lead Operation Shutdown.  Remaining healthy (obviously) will be critical as the Jets cannot afford to lose any of these guys.  While their play is not rewarded with goals or assists, the value these shot blocks contribute, while not quantified on a boxscore, is invaluable for team success.

ESPN:  Jets on the road to recovery.  If you missed this article, Pierre LeBrun took a look at the Jets after their short road trip to Boston and Washington.  He discusses the importance of the defensive combo of Byfuglien and Enstrom as well as the play of Pavelec.
Illegal Curve:  Coach Noel presser.  Team came off road trip healthy.  Keeping things in perspective.  Status of Miettinen.  Wellwood's status. Will Wellwood be moved as a result of success of Wheeler/Kane.  Byfuglien's playing minutes and consistency.  What has changed in Buff's game?  Talks about the Capitals.  Three games in how confident is he?  Response when lineup changes work out?  Jokinen/Kane/Wheeler – bona fide 1st line?  Antropov/Little/Ladd line success.  Importance of keeping emotional balance.  Assessment of Jokinen's play.  Play of Paul Postma.  Thoughts on Mark Scheifele.  Preparation for Penguins.
Jets affiliate and prospect news:
IceCaps official site:  St. John's unable to muster any offence in 3-0 loss.  Burnt by a former IceCap (Riley Holzapfel) and playing their fourth game in six nights, St. John's just couldn't get it done against WBS.  The IceCaps remain in 13th in the Eastern Conference and continue their road trip in Hershey on Friday.
NHL news:
USA Today:  Teams off to unexpected slow starts.  Just staying healthy could be the biggest factor in teams making the playoffs and those that don't in this shortened season.
National Post:  2014 Sochi Olympics next item of business for NHL.  If the ratings for the World Juniors mean anything, you can bet that despite the time change, Canadians will be eager to watch Team Canada, represented by NHLers at the 2014 Olympics.
Edmonton Journal:  City council takes leap of faith for new arena.  Looks like the Oilers will have a new building by 2016, which seems like it will be around the same time this team could be challenging for a Stanley Cup based on the talented foundation they currently possess, which will have matured nicely by then.
Globe and Mail:  Return of hockey a boon to restaurants.  The return of hockey will see restaurants filling up again as fans either come for dinner before the game or choose to watch the games at establishments that cater to the hockey crowd.
Globe and Mail:  What exactly would The Great One do for the Maple Leafs?  So basically this is much ado about nothing.  It appears there is no room for The Great One and not much need for his services in T.O.