Note: We are at the conclusion of the third week of the Team Illegal Curve Beard growing competition as Ezra and Drew help support the Heart and Stroke Foundation of Manitoba in conjunction with the Festival du Voyageur in the 31st annual beard growing contest. Every Friday we will be giving readers an update on the beard progress and here is Ezzy and Drew's growth from Week 2 to Week 3: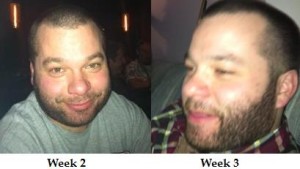 Note II: Don't forget to tune into the Illegal Curve Hockey Show on TSN Radio 1290 from noon to 3 pm on Saturday as the guys discuss all the latest Winnipeg Jets, CBA  and World Juniors news.  Guests:  Dennis Beyak live from Ufa, Russia (TSN), James Mirtle (Globe and Mail), Grant Sonier (ESPN, draft expert).
Jets & Affiliate news:
Winnipeg Free Press:   Players see intensity picking up at Iceplex workouts.  Both sides keeping quiet is bad for the media but good for the process.  NHL players skating at the IcePlex remain hopeful  that a deal can get done soon.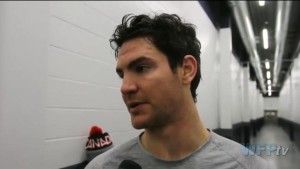 The Telegram:  IceCaps, Monarchs open two-game set tonight.  It is time for St. John's to turn around their season and they can start with a win against the Kings farm team.  Looks like Alexander Burmistrov is still on the shelf and remains in Winnipeg.
WHL official site:  Adam Lowry named WHL Husky Player of the Month.  The Jets 3rd round pick in 2011 was tearing up the WHL last month, scoring 13 times while adding 8 assists and was a +7.
USA Hockey: Jacob Trouba live chat. As we mentioned yesterday, USA Hockey will be doing a live Twitter chat with Jacob Trouba (@JacobTrouba) today at 9:30 a.m. ET. Send in your questions using the following hashtags. #TroubaChat #USAWJC.
CBA news:
Winnipeg Free Press:  Deal in days or it's over.  Despite the optimism at the continued talks there was a decided chill on Thursday.
TSN:  Rollercoaster ride continues as CBA talks drag on.  Remember on Wednesday when everyone was optimistic?  Well Thursday saw pessimism spread across the landscape.  Anyone want to guess what today will bring?
ESPN:  Talks going from embarrassing to worse.  It is absolutely true.  This has entered the theatre of the absurd.
TSN:  NHL players voting again on 'disclaimer of interest'.  It has been said before and it needs to be reiterated to both sides, that they are about to see fans disclaim interest in this league if they continue down this path.
CBC:  A wasted day in NHL labour talks.  You would think we are in October/November and not January with the end drawing near.
Globe and Mail:  Why the NHL's push for a variance limit matters.  Another important facet to the ongoing negotiations between the NHL and NHLPA.
NHL/Hockey news:
The Star-Ledger:  NHL has no issues with timing of Jeff Vanderbeek's ownership of Devils.  Vanderbeek now moves into sole ownership of the team.  Will be interesting to see how he is able to clean up the mess in New Jersey.
Edmonton Journal:  Alberta's Wildrose party proposes lottery scheme to help fund new NHL arenas.  This program would benefit both the Flames and the Oilers.
Globe and Mail:  Dalhousie women's hockey team forfeits season for hazing.  While the hope is this lesson will be sufficient to remove this type of stupidity from sport, the likelihood remains that it will continue to occur but good for Dalhousie for showing that this type of behaviour is not acceptable on their campus.
World Juniors:
CBC:  Many reasons for Canadian juniors' semifinal flop.  It really is quite amazing how we have a collective meltdown anytime our country loses a hockey tournament.  It was one game and the team that played the better game won.
Globe and Mail:  Single result is no referendum on the state of hockey in Canada.  Completely agree with Duhatschek.
Globe and Mail:  A lot went wrong in semi-final, but in the end, Canada needs to take a pill.  As I said above, Roy also is 100% correct in that the panic that occurs after a loss needs to be taken with a grain of salt (or as he suggests, a pill).
Toronto Star:  World juniors: Canada vs. Russia … for bronze.  Despite the disappointment both teams feel not playing for gold, it is important to remember that they represent their respective countries and the pride of playing with your flag on your chest should be sufficient to ensure that this will be an excellent contest on Saturday.
Globe and Mail:  Americans continue ascent in hockey world.  Seth Jones said they would be the team to beat in this tournament and while his words were seen as young bravado, it appears it was actually a confidence in the abilities of Team USA.  The Americans continue to develop a strong Jr. squad as they draw from more and more states across the U.S.