Jets & Affiliate news:
USA Hockey: Jacob Trouba live chat.  USA Hockey will be doing a live Twitter chat with Jacob Trouba (@JacobTrouba) on Friday at 9:30 a.m. ET. Send in your questions using the following hashtags. #TroubaChat #USAWJC.
Hockey's Future:  Jacob Trouba talks tournament, being drafted by Winnipeg.  Since many Jets fans haven't had the opportunity to watch Trouba play for the University of Michigan, they are being given the opportunity to watch him demonstrate his high level of play for Team USA.  (1:38 seconds of video following win against Czech Republic).
Sportsnet:  Whalers top Storm.  Jets draft pick Scott Kosmachuk picked up his 19th goal of the season in a losing cause.  He has 38 points in 37 games for Guelph in the OHL.
Winnipeg Sun:  Former Jets forward Fehr back on track in Finland.  As we discussed many times last season it seemed Fehr just couldn't get over the injury hump but with some summer rest he really appears to have turned things around.  Of course as Paul indicates, SM Liiga is not the NHL, but Fehr might still be able to contribute to an NHL team that wants to take the chance on the Winkler product.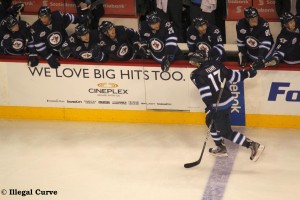 Reporter Herald:  Reed Saunders still rocks the BEC for Colorado Eagles games.  Much like the Jets, their minor league team has a special relationship with their public address announcer.
CBA news:
Winnipeg Free Press:  Time for Fehr, union to get on with it.  According to Darren Dreger of TSN "2nd year cap, term on contracts and pension remain the most significant "open" issues".  
National Post:  NHL, union chip away at their differences.  About the only nugget that came from last night's presser by Bettman was that the mediators were involved in the process, although it later came out that they have been involved all week, not just last night.
CBC:  NHLPA 'disclaimer' deadline passes with no announcement.  The biggest elephant in the room passed without the NHLPA using it.  Talks resume at 10 am today.
TSN:  League, NHLPA wrap up meetings; plan to meet again today.  Stay tuned to @illegalcurve as we will be covering all the latest from New York.
Globe and Mail:  In a country mourning hockey, marketers take their best shot.  They can do their best but most fans have been turned off by the shenanigans by both sides at this point.
World Juniors:
Gold Medal Game:  Saturday, January 5th @ 8 AM.  USA vs. Sweden.
Bronze Medal Game:  Saturday, January 5th @ 4 AM.  Canada vs. Russia.
Edmonton Journal:  Skilled Americans send message to jingoistic Canada: You are not number one.  According to David Staples it was not Mark Scheifele's best game for Team Canada.  He had 1 chance for and gave up 4 against.
NHL.com:  Defending champion Sweden tops Russia in shootout.  Team Sweden sure hasn't been talked about to the extent of the other 3 teams that made the semi finals but they quietly went about their business and have advanced to the Finals for the 2nd straight year.
Toronto Star:  Canada humiliated by US in semifinal.  This US team was not to be taken lightly and perhaps the Canadians did, as they were steam rolled 5-1 by the Americans.  In Jets news, both Scheifele and Trouba finished the game with 0 points and -1.
Globe and Mail:  Canadian hockey fans stand out in Russia.  Regardless of what happens with Team Canada, the fans who have journeyed to Russia to participate in the tournament have had a hell of a time.
Globe and Mail:  'Big four' set to sweep world junior medals yet again.  This has become a tournament of 4 teams, with the Finns occasionally challenging for a spot.  If you had to predict which team will find itself not winning a medal, which would it be?