Jets & Affiliate news:
Detroit Free Press:  Michigan's Jacob Trouba headlines USA hockey team.  The first pick in the 2012 draft for the Jets has been selected as an alternate captain for Team USA.
Winnipeg Sun:  'Twas the night before Christmas.  Paul Friesen reviews the year in sports in poem format.  Plenty of Jets references in his work.
Jets overseas:  EHC Red Bull München vs. Düsseldorfer EG.  Blake Wheeler looked very good skating with his EHC Red Bull Munchen teammates yesterday.  He had a number of breakaways as well as finished with 2 assists in the Germany DEL game.  He was nominated 2nd star of the game for his effort.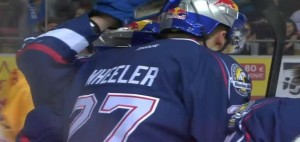 CBC:  Don Cherry back Evander Kane on twitter.  In case you missed it, the Coach was tweeting yesterday, backing up Evander on his recent twitter actions.
CBA news:
Toronto Sun:  KHL's top boss rips both sides for lockout.  Normally it is not very nice to kick a rival when they are down although in this instance, he is quite right.
Toronto Star:  No sign of talks by Christmas.  Day 100 reached and still we have to deal with the game of chicken.  I suspect we might see some chatter this week.
Toronto Star:  Even if NHL owners, players reach some sort of deal, the damage has been done. Count me in as someone who will be happy once this situation is resolved one way or another.  While I clearly want to see NHL hockey being played very soon, the constant games being played by both sides is just too much at this point.  The damage done is immeasurable as Cox suggests.
World Juniors:
Globe and Mail:  The good, the bad and the Terrible of the world junior tournament.  Roy lays out the good, bad and terrible things about the tournament in a way only he can.
Calgary Herald:  Pressure and expectations mix with dreams of gold for Team Canada.  Nothing is preordained.  Just because the last two Team Canada teams who played during a lockout walked through those respective tournaments doesn't mean that same will happen here.
Montreal Gazette:  Wake-up call available .  What better way to wake up in the morning than with TSN personalities Jay Onrait and Dan O'Toole.
USA Today:  Team USA makes two cuts to world juniors roster.  The Americans led by Seth Jones have high expectations this tournament, despite the odds being against them.