Note: Don't forget to tune into the Illegal Curve Hockey Show on TSN Radio 1290 from noon to 3 pm today. Guests: Bobby Holik (former New Jersey Devil, currently Holik on Hockey), Corey Pronman (ESPN).
Jets & Affiliate news:
Icethetics:  Top 10 worst NHL logos of all time.  The Jets represent the 10th worst logo (coincidentally the Thrashers were 9th) according to icethetics, which has focused on the aesthetics of hockey for a number of years.  It is clearly the author's personal opinion but where would you rank the Jets logo?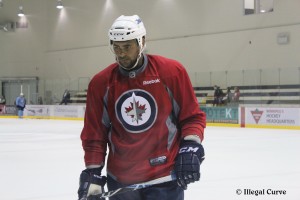 TSN:  Gregoire, Mouillerat each score as IceCaps edge Bulldogs.  A strong goaltending performance by Mark Dekanich, who stopped 26 shots, led St. John's to the road victory.  Winnipegger Jason Gregoire got the ball rolling for the IceCaps who had endured a 7 hour bus ride to Hamilton.  The game was televised last night and it was good to be able to watch the Jets AHL affiliate.
Reporter Herald:  Ugly still wins for Colorado Eagles.  They may have lost the 2 best scorers in the ECHL, but don't tell the Eagles that they are not going to be able to compete.  Once again they pulled out the victory, their 7th in 9 games in the month of December.
CBA news:
CBC:  Don Cherry says NHL will be back in January.  I 100% agree with him.  Of course I also said there would be hockey by US Thanksgiving so take that with a grain of salt.
Globe and Mail:  Players hand union leadership the mandate to decertify.  No they gave the union a mandate to continue posturing.  The expectation is the union will wave this around in the air as a possible consequence of NHL inaction but end of the day, both sides will get deal done and this mandate will remain in Fehr's back pocket.
National Post:  A look at what the union's mandate to dissolve really means.  While the vote was overwhelming in favour of granting the union the right to dissolve, you always wonder who these dissenting voices are.
NHL news:
National Post:  Canada's Spengler Cup team gets gift from lockout.  If the lockout remains ongoing the Canadians might have a good chance of reclaiming the Cup for the first time since 2007.
World Juniors:
Canada beat Sweden 2-1 in a shootout in pre-competition play this morning.
Globe and Mail:  Team capsules.  Taking a look at what each team has done over the past 5 tournaments, predicted order of finish and players to watch.
Toronto Star:  To Russia, with no love lost.  That is going to be one interesting plane ride.  Although the plane back home once the tournament is over might be the most interesting of all.