Note: During November each year, Movember is responsible for the sprouting of moustaches on thousands of men's faces, in Canada and around the world. With their "Mo's", these men raise vital funds and awareness for men's health, specifically prostate cancer and male mental health initiatives. If you'd like to help the Illegal Curve team as we raise money ($3,934.00 as of this AM) and awareness you are welcome to do so; Dave, Ezra, Drew, #5 Mark Stuart and #44 Zach Bogosian.

Note II: We are introducing the newest IC Contest; Guess the day the lockout is officially announced as over by the NHL. Send us an @ tweet to @illegalcurve with the date you think the NHL will publicly state the lockout has ended and you can win IC Gear as well as some gifts from our sponsors.
Note III:  While we usually don't have previews of the Illegal Curve Hockey Show on TSN Radio 1290 until Friday, the guys have informed me that they will be having former Executive Director of the NHLPA Paul Kelly on the show.  So be sure to tune in for an action packed show on Saturday, November 24th from noon until 3 pm.
Jets & Affiliate news:
Globe and Mail:  Cedrick Desjardins makes 29 saves to lead Bulldogs over IceCaps.  And just like that, St. John's is back to splitting series.  This team just cannot seem to put together a streak.
Reporter Herald:  Florida Everblades slice Colorado Eagles up.   The first visit by an Eastern Conference team to Colorado ended badly as the defending ECHL champs won big 7-4 last night.
CBA news:
NBC Sports:  Neuvirth supports Hamrlik, thinks lockout is about "several superstars with big contracts".  At least the Capitals team is sticking together.
Globe and Mail:  Hamrlik's comments put him in middle of NHL firestorm.  Regardless of what side you favour in this dispute, Hamrlik's comments are refreshingly candid.  Also appreciate that he didn't backtrack because he took some heat for his statements.
Columbus Dispatch:  All-Star Game might get axed Friday.  Appears we might lose another 2 weeks worth of games tomorrow and as expected the All-Star game will likely be cancelled as well.
Globe and Mail:  NHLPA's hard-liners hint at decertification.  Negotiation tip 101 – when the other side rejects your offer, default to nuclear threat.
TSN:  Hamrlik not happy with Fehr; Cole calls comments selfish.  The first big crack comes from a veteran player and not surprisingly he gets jumped on for voicing an opinion.  Of course he could have easily shared this privately but perhaps he had and felt he needed to make the comments public.  Hamrlik is probably concerned that at 38 he won't be ever able to get back his 3.5 million dollar salary that he was set to draw this season.
CBC:  Still too many hard lines being drawn in NHL talks.  Friedman seems incredulous that both sides can continue to play these games but considering that we have reached this point, nothing is really surprising about this process anymore.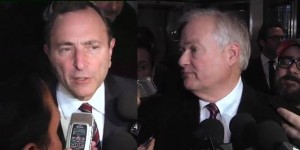 Globe and Mail:  The NHLPA proposal by the numbers.  Mirtle breaks down the key details, other issues and of course, the fine print.
Globe and Mail:  Read the NHLPA offer.  If watching paint dry isn't exciting enough for you, why not give this a read.
theScore:  Angry Fan Confronts Bettman.  I'm actually surprised we don't see more of these types of incidents.
Sportsnet:  Ryan signs overseas despite comments.  Back in September Bobby Ryan said "I'm an NHL player. I'm not going to take somebody else's job overseas".  Hmmm.
CFL news:
Illegal Procedure: CFL Playoff Papers. While the Bombers season might be done there is still plenty of CFL news as the Grey Cup Finals have been set. The 100th Grey Cup will feature the Calgary Stampeders heading east to play the hometown Toronto Argonauts.  We have all the latest news from both the Calgary and Toronto side of things.