Note:  Don't forget that we will be at tomorrow's Winnipeg Jets Jersey Unveiling so make sure you are following us on twitter @illegalcurve to catch the reveal as it takes place @ 17 Wing Winnipeg base in St.James.
Sportsnet:  Cup chasers.  Brophy gives his assessment on the 7 Cdn clubs.  This point he made about the Jets is all fans can hope for:
the Jets are a team otherwise moving in the right direction and if goaltender Ondrej Pavelec plays to his potential, he'll give his team a chance to win on most nights.
Sportsnet:  Some unfinished business.  A quick blurb about RFA Zach Bogosian.
Winnipeg Free Press:  Up close and personal with Derek Meech.  I enjoyed watching him play for the Wings the last couple of seasons, and he should be a good addition to the Jets.
IceCaps News:
St. John's IceCaps:  Who should be the captain of the IceCaps?  Don't forget that the Jets team will develop via its farm team, so the moves that are made over on the East coast are very relevant to fans here in Winnipeg.
Around the NHL:
Montreal Gazette:  The NHL must ban fighting.  What do readers think?  Is it time to do away with fighting or is this purely reactionary?
Charlotte Observer:  Canes look silly for the sake of science.  Right now it is just being used for training purposes but I couldn't see how that would be comfortable during game play.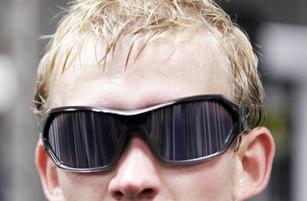 After the jump we have a Q & A with the Stars Toby Peterson, the Oilers are a wee bit optimistic if they think they can overtake their southern provincial rivals and as fans mark Belak's death his friends honour his charitable legacy.
ESPN:  Q & A with the Stars' Toby Peterson.  Looks like the Stars will be using the team mentality, rolling 4 lines all season.
Edmonton Journal:  It's too optimistic to expect the Oilers to overtake the Flames this year.  Staples article shows that just because an expert makes a prediction, it isn't absolute.  As well it would seem highly unlikely that the young gun Oilers are ready to take over for the aging but veteran Flames just yet.
Globe and Mail:  As fans mark Belak's death, friends honour his charitable legacy.  A very worthwhile cause, one that will hopefully get some much needed recognition as a result.