Jets & Affiliate news:
Winnipeg Free Press:  'Make-whole provision' remains hot topic at Iceplex.  As I've said all along, players are absolutely right in this regard.  If they signed a contract in good faith the owners need to pay these out, if they want to reduce them.  End of the day if the owners felt they couldn't afford the contract they shouldn't have signed them.
Winnipeg Free Press:  'Do I see a (possible) deal? I do,' says Jets' Ladd.  Good move by the players this week to soften their tone as fans won't accept either side appearing to be seen as the one holding back movement on negotiations.
NBC Sports:  Eric Fehr signs with Finnish team.  Perhaps he will settle nicely in with a team over in Finland, and will be able to show an NHL teams that he still has something left in him.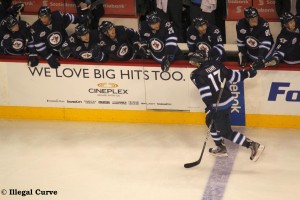 Brandon Sun:  Plante heads to the ECHL Eagles (Registration required).  Appears the Brandon native will be heading to the Jets ECHL team to add some depth to their roster.
CBA news:
Globe and Mail:  NHLPA questions NHL's decision to speak with players about latest offer.  A little tampering, why not??  Appears the PA is less than pleased with some apparent shenanigans.
National Post:  NHL won't lose players to Europe once lockout ends.  I don't believe that any NHL player who has a signed NHL deal will stay once the lockout ends.
Detroit Free Press:  Kronwall says NHL 'had an agenda' against union proposals.  The league has a position and that position doesn't encompass the proposals put forth by the NHLPA.  Using the word 'agenda' connotes something sinister but really they are entitled to having a position which is opposite the Players Association.

Pittsburgh Post-Gazette:  Next NHL lockout casualty – 82 games.  Thursday is the new D-day in the calendar for NHL hockey fans.  That is the day when your 82 game schedule goes bye bye and then negotiations turn very, very frosty.
Edmonton Journal:  As cancer kills his dad, an emotional plea to the NHL and its players.  A terribly sad situation but one that will likely be unsuccessful in terms of motivating either side.
NHL news:
Edmonton Journal:  Is Daryl Katz contemplating a betrayal of Oilers fans that will make the Gretzky deal look like small change?  As if things in Oilers Nation couldn't get any worse, now the talk is switching to Southern Ontario. Of course for now this is just chatter but you never know, where there is smoke there can be fire.

Toronto Sun:  Savard still battling concussion symptoms. Cannot be easy to still be dealing with this all this time following his concussion.
ESPN:  Anton Volchenkov has broken bone.  A big injury to Volchenkov for four weeks after injuring his foot in a KHL game.
Globe and Mail:  Big-league lessons learned, passed on.  For such a young players Jones sure seems to possess a ton of maturity.
CFL news:
Illegal Procedure: Winnipeg Blue Bombers Papers. If you are a fan of CFL football, check out our other site, which gives you all the latest Bombers & CFL news.  Good news Blue fans, Winnipeg can still make the playoffs and the math is quite simple.  Bombers need to win out and have Eskimos lose out.
Illegal Procedure:  A Season on the Brink – Taking Personal Ownership.  This is about the players who, for the most part, displayed a noticeable and personal ownership and accountability of their play Saturday afternoon in the matinee tilt in Toronto.