Jets news:
Winnipeg Free Press:  Jets trying to stay positive about NHL/NHLPA negotiations.  Looks like the squad at the MTS IcePlex is shrinking now that some guys have flown off to their AHL camps.
Winnipeg Free Press:  Locked-out Jet Burmi happy to be on The Rock.  While it might not be better for his pocket book, playing in the AHL could help with his development.

Winnipeg Free Press:  No Jets, no problem for busy MTS Centre.  Part of the reason that True North is such a successful entity, is they are not solely reliant on the Jets as a source of revenue.  Keeping the MTS Centre running at capacity helps with the bottom line.
Winnipeg Sun:  IceCaps head to camp.  Based on the way Telegin and Burmistrov were skating last week, the Caps are going to have a strong team in St. John's.
Illegal Curve: Is Bryan Little a 2nd line center? Richard took a look at some numbers and evaluated where Bryan Little fits amongst NHL centers.
CBA news:
Globe and Mail:  Third straight day of CBA discussions concludes, cancellation of regular season games next.  Many believe that this week might see some regular season games start to get cancelled.  If that happens, you can bet the owners will make the players pay by having them lose some pay periods.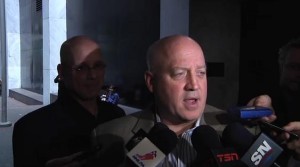 ESPN:  NHL, union won't meet again Monday.  Usually this is a bad thing but perhaps it will give each side an opportunity to evaluate the past 3 days and get them prepared to make some concessions during the week.
News and Observer:  No players – but fans show up big at Caniac Carnival.  Good to see 3000 fans showed up and good PR move by the Canes for going forward with the festival.
NHL news:
National Post:  Krys Barch is not doing himself any favours with NHL lockout comments.  It is why the NHLPA should have a gag order on players use of twitter during the lockout.  It only exposes what most fans are well aware of, that players are just as clueless as ownership when it comes to understanding the average fan.
Calgary Herald:  Flames GM Feaster still scouringfor more grit.  Oh boy.  Flames Nation won't be happy if they have to rely on the resources within.
Montreal Gazette:  "Back-end rehab" works for Markov.  For Montreal to have some bounce back they are going to need Markov to be playing at 100% this season.
CBC:  Rick Nash injury not serious.  Good news for Rangers fans.
Edmonton Journal:  City could save millions with space in new office tower, report says.  The relationship appears to be on the mend between the city and Katz.
Illegal Curve Hockey Show replay:

Part 1:  CBA negotiations update.  Interview with Sean Fitz-Gerald of the National Post.  NHL News & Notes.  Interview with Richard Stursberg, former head of CBC English Programming.  Is Bryan Little a  bona fide  2nd line NHL centre?
Part 2:  Is Bryan Little a  bona fide  2nd line NHL centre continued?  Edmonton Oilers arena.  Interview with Sean Gordon of the Globe & Mail.  Recap of Saturday's NHL/NHLPA meetings.  Jets in the KHL update.  Rapid Fire, Cheers & Jeers.
CFL Report:
Illegal Procedure: Winnipeg Blue Bombers Papers. If you are a fan of CFL football, check out our other site, which gives you all the latest Bombers news. After a disappointing game against the Argos, the Blue need to re-group and get ready for a hungry Alouettes team.