Jets news:
Metro News:  Fans embrace 'old Jets' during historic playoff run.  I think the Metro found 3 guys in Winnipeg who happen to be cheering for the Coyotes.  Despite the fact that the bitterness is largely gone due to the return of the Jets 2.0, I just cannot see people cheering for the former Jets.  Am I wrong?  Are you cheering for them?  Indifferent?  Speak your mind.
Winnipeg Free Press:  Glendale needs help to keep Coyotes.  Sticking with talk of the Jets 1.0, Gary rightly suggests that fans in Arizona should be asked to put their money down to support this team that the council of Glendale and the 29 other NHL teams are paying for.
Jets official site:  Best of Blake Wheeler.  The Jets show off 17 of their favourite photos of the man known as @BiggieFunke on twitter.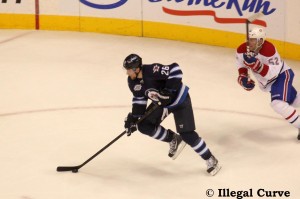 Winnipeg Free Press:  Jets freebies unfair.  Are we really supposed to be shocked that these public employees are surprised that they were not doing the right thing by using tickets purchased with public money?
Affiliate news – St. John's IceCaps:
The Telegram:  IceCaps coming home to finish off Penguins.  Heading back to St. John's where they hope whiteout conditions will contribute to them finishing off these Penguins.
The Telegram:  IceCaps lose Game 5 in overtime.  It was the third straight game in this series that these two teams went to OT.  Listening to IceCaps radio it sure sounded like St. John's carried the play but the Baby Penguins got a good break in the 2nd OT and pulled off the victory.
Stanley Cup news:
Washington Post:  Capitals look to skate another day.  The Caps know they cannot dwell on their Game 5 mistakes, but instead need to stay focused on tonight's tilt with New York.  Will Washington be able to extend this to 7 games?
New York Daily News:  Tortorella will not ease up on Blueshirts heading into Game 6.  This series has been too close to be self-congratulating with this much hockey left to play.  Rangers cannot afford to take their foot off the gas or these cagey Capitals will be sending the series back to MSG.
Star-Ledger:  Devils beat Flyers 3-1, advance to Eastern Conference Final.  Not many predicted this and even less would have done so in just 5 games.  Even Ezra, the lone IC prognosticator to pick the Devils, chose them in 7 games.  The Devils played a great series and deserved the win.
Philadelphia Daily Inquirer:  Bryzgalov flubs, Flyers fall.  Remember when he was in Winnipeg and said he liked it here because fans chanted "Ilya, Ilya"?  Something tells me the fans in Philly were chanting his name last night but once again, not for the right reasons.