Note:  The Jets run came to a halt last night as the Rangers came to town and left with a clean two points after their 4-1 victory over Winnipeg.  Today the Jets have a scheduled day off.  They'll be back on the ice on Thursday for a practice as they get ready to continue this homestand when they welcome the Sharks to town.
Note II:  The Jets announced they have extended head coach Paul Maurice to a multi year deal.
Note III:  The Moose have had three days of practice and will take on the IceHogs tonight as they kick off a pair of games against their division rival at Bell MTS Place.  Puck drop is at 7 pm.
Jets news:
Sportsnet:  31 Thoughts.  Include: 1) Maurice extension. 16) Kyle Connor rumour.  17) Byfuglien grievance. 
The Athletic Winnipeg: Jacob Trouba gets what he expected: Mix of boos, cheers greet former Jets defenceman. (Paywall).  Ken looks back at last night and all the way back to the beginning with Trouba.
Winnipeg Sun: Jets' winning streak comes to an end with loss to Rangers. All good things must come to an end and yesterday that's what happened to the Jets run of 4-0-1 as the NYR took a late lead in the opening period and didn't look back. Scott has more.
Winnipeg Sun: Carlyle, Steen praise community as pair inducted into Jets Hall of Fame.  Lots of love for Winnipeg which I suspect will continue at today's Hall of Fame luncheon.
Winnipeg Free Press: Jets drop out of playoff picture with 4-1 loss to Rangers. (Paywall).  Mike recaps the game from his spot inside Bell MTS Place.
Winnipeg Free Press: Returning team had to be Jets. (Paywall).  Not even sure how anything else was even considered quite honestly.
Winnipeg Free Press:  Jets 1.0 legends enter Hall.  (Paywall).  Listening to the media availability from Randy Carlyle it was impressive to hear him talk about his plans to make a like here in Winnipeg.  These two are iconic members of those Jets 1.0 teams.
New York Post: Igor Shesterkin sparks Rangers after returning from concussion scare. Quite a first NHL road start for the Blueshirt netminder.  And since it was an ankle injury perhaps concussion should have air quotes around it.
New York Post: Jacob Trouba gets icy welcome in return to Winnipeg.  There was a nice gesture by the Michigan-born Trouba to sign and give a young Jets fan a stick during warm-up.
Sportsnet: How motivated is each Canadian NHL team to buy at trade deadline?  As you'd expect he is unsure of what to expect from the Jets.
Jets video:
TSN: Poor defensive zone coverage bites Jets against Rangers. Chris Kreider ran wild on the Jets, picking up a pair of goals and as TSN Hockey analyst Jamie McLennan explains, poor defensive zone coverage all around for the Jets came back to bite them in this one.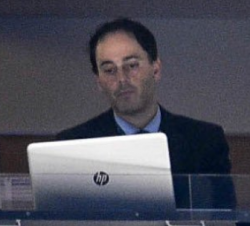 Latest posts by David Minuk (see all)