Note:  The Jets will be looking to put their three game losing streak in the rear view mirror and tonight they will face a big test in the form of the 7-1-0 Edmonton Oilers.  Connor McDavid and company are lighting up the competition so it will be a test of this Winnipeg squad tonight.  They held a busy practice on Saturday, which included some injury updates, and while they aren't skating this morning there is an availability at 10:30 am so be sure to check back for the pre-game report.
Note II:  The Moose completed a two-game series against the Wild last night here in Winnipeg which saw them lose 4-2 which means they've lost four straight and are 1-5-0-0 on the season.  Today they will get loose at the Assiniboine Park Zoo as they meet with their fans starting at 1:30 pm.
Jets news:
Winnipeg Free Press: UH-OH… Here comes Connor. (Paywall).  Big test with 97 and company coming to town.
Winnipeg Free Press:  Vet more than a Little excited.  (Paywall).  After playing back-to-back 82 game seasons it has to be a little (no pun intended) frustrating to miss the first nine games of the season.  Especially when you team is struggling.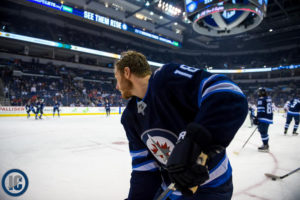 Winnipeg Sun:  Jets welcome NHL-best Oilers to town.  This will certainly be a wake up call.  
Winnipeg Sun: Pionk defying expectations, just not Maurice's.  He's been a pleasant surprise considering the hue and cry when he was first traded for.  He isn't Jacob Trouba of course but the Jets bench boss spoke about his early impressions of the player they got for their 2012 1st rounder.
The Athletic Winnipeg:  Will Ville Heinola stay or will he go? Jets defenceman responds well to three healthy scratches.  (Paywall).  Ken provides his insight on the defenceman who many didn't expect would be here this long but continues to defy the odds.
NHL.com: Jets 'work in progress' ahead of Heritage Classic against Flames, GM says.  I'd suggest that a lot of that 'work in progress' will be resolved once the team knows the status of number 33.
Illegal Curve Hockey Show Replay:
Topics: Jets Week in Review, The TSN Report that there is a "growing sense of optimism" that Dustin Byfuglien may return, The Jets Penalty Killing Woes, Do the Jets lack an identity
Guest: Trevor Kidd (Jets Analyst on TSN) at 27:27.
To listen to part 1 click here.
Topics: Jets/Oilers Preview, The early season struggles of the Dallas Stars and Minnesota Wild, Nico Hischier signs a 7-year deal with the New Jersey Devils, Is John Hynes on the hot seat
Guests: Lisa Dillman (The Athletic Los Angeles)at 0:00, Mike Commodore (Former NHL player) at 34:26 and Dave Jamieson (Dave Jamieson Show, TSN 1260 Edmonton) at 59:44.
To listen to part 2 click here.