Jets news:
NHL.com:  Road woes keep them home for postseason.  Are the three reasons to hope going to be enough to get this team to turn the page next season?
Winnipeg Free Press:  Roaring rink might attract free agents.  While the fans definitely add to the equation when it comes to bringing in free agents, the truth is at the end of the day most players are motivated by two things; money and a chance to win.

Winnipeg Free Press:  Chevy open to draft manoeuvres.  As it currently stands the Jets have the 9th overall pick but could move up to the 5th spot (max move for winner is 4 spots) if they beat the odds and won tonight's lottery.  The odds of the Jets being selected this evening are approximately 2.7%.  Since this team seems set on developing a winner over the long term, it seems highly unlikely a move will be made.
Winnipeg Sun:  Jets rate C-minus overall after poor fourth semester.  When we took a look at how the Jets compared through 41 games to the previous season in Atlanta, the numbers were remarkably similar and by the end of the season they remained pretty even.  The team still needs a number of pieces before they will be ready to become a top team in the East or West.
Winnipeg Sun:  Bogosian soaks it all in.  As he told us on Sunday, he is much more comfortable in a small/big town like Winnipeg than he was elsewhere.  It is clear that the young blueliner is extremely happy here and hopefully his development into a top defender will continue next season.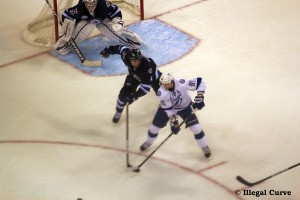 Winnipeg Sun:  Plenty of prospects for Jets to pursue.  While the focus of the teams vying for the Stanley Cup will be on winning Lord Stanley's mug, those 14 teams on the outside looking have turned their attention to the 2012 NHL Entry Draft in Pittsburgh.  NHL Deputy Commissioner Bill Daly reveals the draft order tonight at 7pm, exclusively on TSN.
TSN:  Cheveldayoff sums up the season on TSN Radio 1290.  All eyes in this province will be focused squarely on the Jets GM this summer as fans switch focus from the players to the man who is tasked with improving this team's foundation.
Illegal Curve:  Players season finale interviews.  We spoke with 13 Jets (Ondrej Pavelec, Chris Mason, Zach Bogosian, Tanner Glass, Tobias Enstrom, Jim Slater, Kyle Wellwood, Mark Stuart, Andrew Ladd, Dustin Byfuglien, Blake Wheeler, Evander Kane, and Bryan Little) Sunday and each had quite a bit to say.
Illegal Curve:  Coach Noel season finale press conference.  Exit interviews with the players.  Expectations for this team.  Giving the players something to think about over the summer.  What does this team need to be a playoff contender?  Where this team is going.  Ladd's leadership.  What's the year been like for coach personally?  Has he been contacted by Hockey Canada for World Championships (has Fly Fishing on the brain).  Favorite fan moment.  Any surprises for him this year?  How involved he is with the free agency process.  Will guys want to come to Winnipeg?  Fehr needs surgery?
Affiliate news – St. John's IceCaps:
The Telegram:  IceCaps welcome back two from Jets.  They are getting back two solid contributors, including their leading scorer in Machacek, which will be critical for their playoff drive.  They have 3 games remaining and need a single point to finish 2nd in the Eastern Conference.
NHL news:
Winnipeg Sun:  Our guide to playoffs.  Even without the Jets in the post season, there are still a number of Manitoba story lines to follow.
Globe and Mail:  How the NHL's draft lottery works.  If you have any questions on tonight's draft lottery here is some information on how it works.
Toronto Star:  Maple Leafs say sorry for dismal performance this season.  For all the money they generate and all the big talk, the Leafs were once again left on the outside looking in for the 7th straight year.  This apparently necessitated the MLSE's chairman and a minority shareholder Larry Tanenbaum to take out a full page apology ad in the Star.