Note:  While normally the focus of this note would be about the Jets game last night against the Islanders, the 4-1 loss was secondary to the news that Josh Morrissey, who had been scheduled to play, was a late scratch due to an upper-body injury he sustained in pre-game warm up.  Following the loss Coach Maurice indicated that they pulled Morrissey from the game as a precautionary measure and he should be considered day-to-day.  Update:  Josh Morrissey was in a regular uniform at practice today in Pittsburgh.  For more on him and the Jets check out the Practice Report.
Note II:  Elliotte Friedman spoke about Dustin Byfuglien on Saturday Headlines.
Note III:  The Moose are off today after splitting their road trip to open the AHL season.  They will be back on the ice on Tuesday as they get ready to face the Toronto Marlies in their home opener on Friday.
Jets news:
Winnipeg Sun:  Jets lose another top defenceman before losing to the Islanders.  When the team announced that Josh Morrissey wouldn't be playing I thought the score would be quite different after 20 minutes. While New York eventually prevailed there were some important things that transpired for Winnipeg.  Ted has more from his perch.
Winnipeg Free Press:  Jets fall to Islanders 4-1.  (Paywall).  Mike recaps the action from his perspective inside Nassau Veterans Memorial Coliseum.
Winnipeg Free Press:  Coach sows the seeds of a goalie controversy.  (Paywall).  With all the drama that was surrounding the team during training camp it seems premature to already have controversy this early in the season.
Newsday:  Islanders bounce back with 4-1 win over Winnipeg at Nassau Coliseum.  Check out Andrew's column on last night's game from the perspective of a writer that covers the Jets opposition.
CBC: Another slow start dooms Jets in loss to Islanders.  I'd suggest that the Jets didn't start slow at all but the 2nd period caused them some serious woes. 
Sportsnet: Jets not rushing Byfuglien into decision on future. Chris delves deeper into the subject matter that Friedman discussed on Saturday Headlines (see Note II).  Basically, as Friedman stated, the wait and see approach continues when it comes to 33.
Illegal Curve Hockey Show Replay:
Topics: Jets/Devils recap, Jets forward lines to start the season, Where does Bryan Little play when he returns, Jets/Islanders Preview, Jets Over/Under for the 2019'20 season
Guests: Ken Wiebe (The Athletic) at 27:47 and Andrew Gross (Newsday) at 50:53.
To listen to part 1 click here.
Topics: Manitoba Moose Season Preview/Expectations for Mikhail Berdin in net, Who is on the hot seat to start the 2019'20 regular season, NHL Awards Predictions, Edmonton Oilers lose Adam Larsson for 6-8 weeks, Blues sign Brayden Schenn to an eight-year contract, Cheers/Jeers is back
Guests: Daniel Fink (Manitoba Moose play-by-play broadcaster) and Marty Biron (Former NHL goaltender, TSN-MSG Analyst) at 21:08.
To listen to part 2 click here.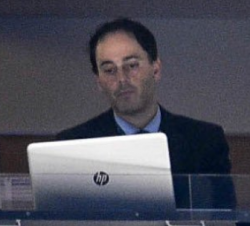 Latest posts by David Minuk (see all)