Note:  On Tuesday a few new Jets numbers were announced and on Wednesday Dmitry Kulikov took his old (with the Panthers) number 7 after wearing number 5 the last two seasons here in Winnipeg.
Note II:  With RFA watch in full swing here in 'Peg city the arbitration hearing for Andrew Copp is fast approaching (21st of July) with Neal Pionk's on the 24th.  A reminder that they have to file a brief no later than 48 hours in advance of the hearing date which for Copp would be tomorrow.
Note III:  The Jets and Moose announced that they have renewed their affiliation agreement with the Jacksonville Icemen of the ECHL.
Jets news:
Winnipeg Sun:  A little roster juggling could do the Winnipeg Jets a lot of good next season.  Scott uses WAR (to which I @ tweeted him 'WAR, h'uh, yeah! What is it good for? Absolutely (nothin') but in this instance that would not be accurate") to tweak the Jets lineup for next season and he got some interesting results from this exercise.  
The Athletic Winnipeg: Charting Winnipeg's path back to being a Stanley Cup contender. (Paywall). Lots of talk about the window, which just seemed to open, closing in Winnipeg from folks outside the province. Murat looks at what the Jets can do to keep that window open.
Winnipeg Sun: Jets have experience, patience for handling RFAs Laine, Connor.  Luckily for folks in Winnipeg they don't live near any volcanoes!  And who knew Winnipeg even had an airport?  Scott's article talks about the new normal when it comes to RFAs.
The Athletic:  Grading every team's contract efficiency.  (Paywall).  Winnipeg ranks in the 10th spot in the NHL by Dom although that is without Laine or Connor under contract.  No surprise which contract on this team he views as the most valuable.
WGR Sports Radio Buffalo: Are the Sabres and Jets a match for a Ristolainen trade? Jeff Hamilton of the Winnipeg Free Press was on Buffalo radio the other day discussing whether these two teams could get together for another trade.  The analytics on Ristolainen aren't great and it still makes my head spin when I hear Nikolaj Ehlers name being mentioned.  
Jets audio:
Sportsnet: Starting Lineup with James Cybulski, Perry Solkowski, & Rick Dhaliwal.  They chat with Sean Reynolds about the Jets starting with the two big RFAs here in Winnipeg, the 'window of opportunity', whether Aho is a comparable for Laine or Connor?, if you could only take Laine or Connor which is more valuable?  The Winnipeg talk begins at 1:18 and runs for about eight minutes.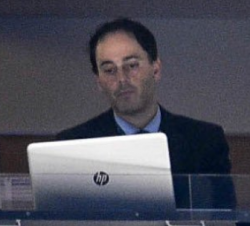 Latest posts by David Minuk (see all)