Note:  Jets prospects and invitees were back on the ice at Jets Development Camp on Thursday and following their on ice responsibilities players spoke to the media which you can watch here.  Today is the final day of Development Camp and players start to hit the ice at 10:00 AM for a scrimmage and you can get caught up here.
Jets news:
The Athletic Winnipeg: A skid steer, an opera singer and Ville Heinola. (Paywall). Murat deep dives into the top pick for Winnipeg at last weekend's NHL Draft.
Winnipeg Sun:  Stanley sets sights on next step as 2016 first rounder making progress, seeing results.  He is one of the players on the Moose I get questioned about most often.  He has a way to go still but it was evident that he was learning quite a bit last season and that coach Vincent and his staff relied upon the first year pro in a big way.
Winnipeg Sun:  Stefanson, Mullin cross paths again.  Pretty cool for these guys to be able to slip on the sweater of the local NHL club.
Winnipeg Free Press:  Stanley's development steady as Moose mainstay.  (Paywall).  We live in an instant gratification society so if a guy isn't ready immediately he is labeled a bust.  I remember when that word was used on Josh Morrissey because he spent time in the AHL.  Now I am not suggesting Logan Stanley will be Josh Morrissey but I am suggesting that folks have patience with a young player who grew quite a bit in his first year as a pro.
ESPN: NHL free agency game plan for the Central Division teams. A look around the Central. If you just want his thoughts on the Jets head to the bottom of the article.
Winnipeg Free Press:  Local youngsters share ice with hockey heroes at Jets development camp.  (Paywall).  Must be fantastic for their friends and families to be able to attend and watch them practicing under the banner of the local NHL squad.
NBC Sports: Examining the different contract routes for Jets, Laine. Scott goes into some detail on the possible scenarios for the Jets sniper.
The Athletic Winnipeg: The biggest holdups and challenges facing Winnipeg heading into free agency. (Paywall). Everyone is waiting for that next shoe to drop…and waiting….and waiting. Murat has more on the holdup.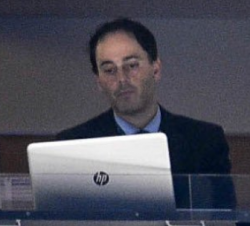 Latest posts by David Minuk (see all)