Note:  As you have likely noticed we've changed the website.  Please ensure you've cleared out your cache (ie. clear browsing data) to ensure that you are seeing it 'refreshed'.  We hope you enjoy the changes to the site.
Note II:  Last season the Jets met with the media on May 22nd to conclude their season but with this season's early 1st Round exit it will be a happening a full month earlier.  We will be down at Bell MTS Place for the Jets media availability to be sure to keep it locked to illegalcurve.com for the latest news and audio.
Jets news:
Winnipeg Free Press:  Jets look to next year after disappointing playoff defeat.  (Paywall).  It is hard to already be forced to think of next year when you consider what they were expected to accomplish this season.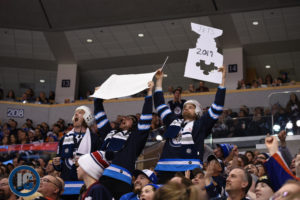 Globe and Mail:  Commitment issues shattered Winnipeg Jets Stanley Cup final bid.  (Paywall).  There is going to be some need for soul searching from the brain trust as well as the players during this longer than expected off season.
Illegal Curve Hockey Show Replay:
Topics: Jets-Blues Game 5 Recap, What will the forward lines look like if Nikolaj Ehlers can't play in Game 6, Jets-Blues Game 6 Preview, Should Josh Morrissey be playing more.
Guests: Mike McIntyre (Winnipeg Free Press), Dave McCarthy (Maple Leafs correspondent for NHL.com, Host, SiriusXM NHL Network).
To listen to part 1 click here.
Topics: Flames-Avalanche Series Recap (Avalanche win the series 4-1), Penguins/Islanders Series Recap (Islanders sweep Penguins 4-0), Update from Jets Game Day skate.
Guests: Andy Graziano (New York Islanders columnist for WFAN Sports Radio, Secondary Assist Podcast), Mike McKenna (NHL/AHL goaltender, Six Degrees with Mike McKenna), Adam Vingan (The Athletic Nashville).
To listen to part 2 click here.