Note:  The Jets are on their second day off during their five-day break.  Two of their central division rivals were in action with the Hawks losing in regulation while the Wild lost in overtime.
Note II:  The Moose got three players back on Sunday when the Jets reassigned Hutchinson, Roslovic & Lemieux back to their farm club.  It proved very helpful for Manitoba as Roslovic & Lemieux were able to make an impact on the ice in the 3-2 Moose win.  The Moose are off today.
Jets news:
Winnipeg Free Press: Jets head into bye week needing rest, resuscitation. (Paywall).  There is no question this comes at a good time for the team as it will give the majority of players who are dealing with minor issues (or those with major ones like Mark Scheifele) the time to heal up and get them ready to make a big push for the playoffs.
Sportsnet:  Morrissey's offence untapped due to Jets defence.  Article is mostly from a fantasy perspective but still chats about a couple of the Jets blueliners.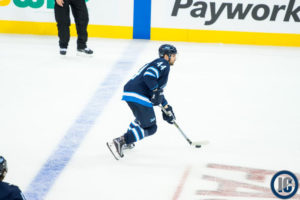 Moose news:
Illegal Curve:  Moose, as Polar Bears, claw out 3-2 win over Wild.  The team would have been better served staying out of the penalty box which gave Iowa a chance to get back into this game.
Illegal Curve:  Jets reassign Hutchinson, Roslovic & Lemieux to Manitoba Moose.  Huge additions for the farm club.
Illegal Curve Hockey Show Replay:
Topics: Jets/Blackhawks Recap, How active should the Jets be prior to the NHL Trade Deadline, Jets/Wild Preview, Is Blake Wheeler a bonafide Hart Trophy candidate.
Guests: Mitch Peacock (Voice of the Manitoba Moose), Mike Greenlay (Minnesota Wild Analyst for Fox Sports North).
To listen to part 1 click here.
Topics: Breaking down Team Canada's roster for the 2018 Winter Olympics in South Korea, Latest TSN Trade Bait Board.
Guests: Michael Traikos (National Hockey Writer, Postmedia), Chris Kontos (Former NHL player), Branden Crowe (Play-by-play voice of the Brandon Wheat Kings).
To listen to part 2 click here.