Note: We will have audio from the Jets and Devils practice today.
Note II: Jets have re-assigned Patrice Cormier to IceCaps.
Winnipeg Free Press:  Glass's modelling career a write-off.  It is always scary when you have any contact around your eyes.  Glass will reluctantly be wearing a visor while his face heals.
Winnipeg Sun:  Snapshots.  Bad road habits follow team home.  Lively crowd.  Return to old lines.  Jets PP.  Wellwood's goonery.  Big Buff all-star?  Needing someone in front.  Poor at faceoffs.  Need for Cormier.  Habs trade sparks chatter.  Ladd offensive zone penalty.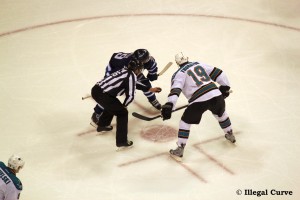 Winnipeg Free Press:  Kane, Noel on same page.  Now the Jets just need to keep Kane on the same line as Wheeler and Little and all will be well again in Jets land.
Winnipeg Free Press:  Jets want to give peace a chance.  No question that a labour strike would be absolutely terrible to this market.
Winnipeg Free Press:  Big Buff is all-star stuff.  Last night we saw what happens when a 'heavy' team like the Sharks comes to town and there is no Buff to hold back the tide.  Of course no Bogosian really didn't help matters, but Buff has shown consistently that he has the strength to deal with these bigger teams.
Winnipeg Sun:  Coach going too far?  Whether it was inadvertent or intentional, the comments were made.  No going back or disavowing them.  The team has to move past it as they have the Devils in-town for an Eastern Conference matinee showdown on Saturday.
Winnipeg Free Press:  Coach Noel worried about Jets mental state.  The frustration was clearly evident following the loss.  Captain Andrew Ladd, when speaking with the media, reiterated how sick he is of the team being so inconsistent.  They are going to need to get this figured out if they want to continue to seek the post season.
San Jose Mercury News:  Odds and ends on the journey from Winnipeg to Columbus.  Dave Pollak gives his final thoughts on traveling to Winnipeg for the first time since 1993.  A game he told me that had the Sharks about to set a record for consecutive losses, until they beat the Jets 1.0.
Game Recap – Sharks 2 Jets 0:
Winnipeg Jets audio:  Ondrej Pavelec, Andrew Ladd and Jim Slater.
San Jose Sharks audio: Antti Niemi, Logan Couture, Andrew Murray, and coach McLellan.
Jets on a Deadline:  Sharks 2 Jets 0.  Game recaps, post-game audio, video highlights and the NHL.com 3 Stars.
Affiliate news – St. John's IceCaps:
CBC:  Dynamic duo entertains fans, taunts opponents.  Move over Green Men, the Pink Men who morph into other colours apparently, are here.
Next opponent news – New Jersey Devils:
NJ.com:  Devils rookies Larsson, Henrique given all-star recognition.  Fans should be painfully aware of Adam Henrique considering his success against the Jets 2.0.
Fox News:  Devils looking for financial miracle.  Does anyone have 80 million to lend the Devils?  I know IC's Ezra Ginsburg is good for a few bucks to help prop up his old favourite team.