Note:  The Jets left La La land with a single point after the Kings managed to tie the game and win it in OT.  While they did secure a single point the team has struggled on Saturday night's going 1-5-1 in an evening affair.  The team will have a day off today before Monday's afternoon contest in San Jose against the Sharks.
Note II:  The Moose will face the Wolves in a re-match this afternoon at the MTS Centre.  It will look a little unusual though as Manitoba will be wearing one of their specialty jerseys (Fire Fighter ones) in the game.  Puck drops at 2 pm.
Jets news:
Winnipeg Sun:  Jets fall to Kings in Overtime.  Ted breaks down the game from inside the Staples Center.
Winnipeg Free Press: Jets make strides in OT loss to Kings.  (Paywall).  We shall see if the Jets can keep things rolling on Monday.  Paul recaps the game.
L.A. Times:  Kings' Jeff Carter buries the Jets in overtime, 3-2.  Always good to read about the game from the perspective of a beat writer that covers the team the Jets faced.
Sportsnet:  Coach Paul Maurice 'not in trouble' in Winnipeg.  This would seem to quash the rather rampant rumours about his demise.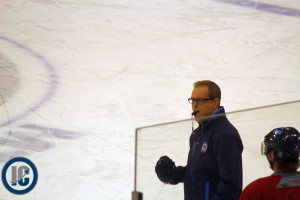 Game 46: Kings 3 Jets 2 in OT:
Illegal Curve: Post-game Report.  A look at the stats as well as audio from coach Maurice.