Northern News Services:  Christmas with the Jets.  A young fan struggling with a very a tough set of circumstances, who was able to enjoy the Jets game and get his mind off his condition.
Dave Art.com:  David Aebischer's new mask.  David Gunnarsson has done a ton of NHL goalie masks, including Jets Ondrej Pavelec and Peter Mannino.  Here is his latest masterpiece.

Winnipeg Free Press:  Kane comes under fire.  The coach doesn't mince his words and you have to appreciate his candor and his willingness to take his players to task. 
Winnipeg Sun:  Coach Noel rips Kane's play.  Whether it is a 4th liner or superstar Coach Noel calls it the way he sees it.
Winnipeg Sun:  Snapshots.  Third period collapse.  Injuries.  Fehr scores first goal.  Thorburn still waiting for first.  Good hustle by Thornton.
Winnipeg Free Press:  Problems piling up for NHL, Bettman.  Not that anyone is thinking about the offseason just yet, however with the upcoming labour negotiations, it is going to prove to be a summer to remember.  Throw in the Coyotes situation and you have yourself quite the daily news cycle.
Winnipeg Sun:  There can be only one WJ0001 Jets fan.  Pretty cool.  A chance to be the actual #1 fan and donate to charity.  Another win by True North.  I just wonder if they also win the over sized, novelty licence plate seen here.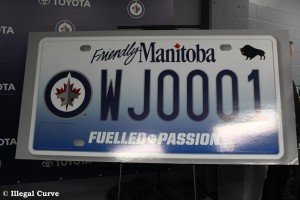 Winnipeg Sun:  Jets made a surge in season's second quarter.  The true test will be what happens in January and even the beginning of February on the road.  If they can improve on their road record they will make life a lot easier for themselves.
Ottawa Citizen:  Karlsson gunning for Maciver.  The guy who scored the final goal for the Jets 1.0 looks like he could lose one of his Senators records.  Has some nice words to say about the return of the NHL to Winnipeg towards end of the article.
Illegal Curve:  Jets on a Deadline – Bruins 5 Jets 3.  Game recaps/stories, video highlights and the NHL.com 3 Stars of the Night.
Affiliate news – St. John's IceCaps:
The Telegram:  Marlies outwork IceCaps.  The Caps have proved dominant over most teams in the AHL, with the exception of the Marlies, who has a 4-1-1 record against the Jets affiliate.
Next opponent news – San Jose Sharks:
San Jose Mercury News:  Brrrrr — in Winnipeg where Clowe takes maintenance day and two Sharks from Manitoba get extra attention.  My biggest memory of the Sharks from the Jets 1.0 days was the excitement generated in Winnipeg Arena by Foxwarren, Manitoba's Pat Falloon.  Couple of Manitoba ties with the Sharks.
San Jose Mercury News:  McLellan: 'Some nights you get what you deserve. Tonight we probably got a little more than we deserved'.  As per usual David Pollak gives a good breakdown of the game.
CBC:  Wild recover to drop Sharks in shootout.  The Sharks bit back in  this game to force extra time and a shootout but in the end dropped the contest to the Wild.