Toro Magazine:  Activists – Cool your Jets.  As I've been saying since this logo controversy began, this is a really big leap from simple logo to being part of the military machine.  The author of the article puts it best:
It's pretty amazing what people with an agenda, always looking for a platform, will see in something as simple as a hockey team logo.
London Free Press:  Going loco over Jets logo.  For all the complaints/concerns, all True North is worried about is selling this logo to the buying public and from the sounds of the cha ching of the tills in the True North Jets store, it doesn't sounds like that is going to be an issue.
Winnipeg Sun:  Puck fans fueled by passion.  As with most hockey mad markets, the fans are always going to question every decision, no matter how big or small.  However it should be noted that Jets fans have not stopped cheering since before the team was officially re-located and I don't think they are going to stop for the next 5 years.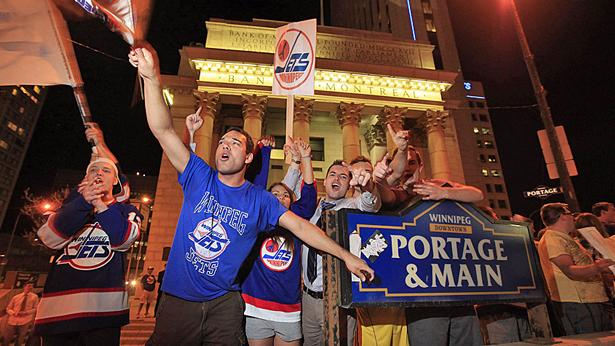 Around the NHL:
New York Times:  New coach, but perhaps little change.  Will the Devils be able to return to the hot pace they had during last season's 2nd half?
Globe and Mail:   TSN stepping stone to head coaching job.  Last week's guest on the IC radio show Bruce Dowbiggin with an excellent article on getting an NHL coaching job following a stint at TSN.
CTV:  Versus to be renamed NBC Sports Network in January.  This specialty channel sure has come a long way since it was the Outdoor Life Network.