Winnipeg Free Press:  Jets bounce up off mat.  It is one thing to say you need to play better after getting demolished but the Jets put words into action, playing a tight, action packed game against the hottest team in the league.  Ondrej Pavelec showed why he is the Jets #1 tender as he was again the difference maker in the game.
Winnipeg Free Press:  Wild night in Winnipeg but that's the norm in this hockey-mad town.   Gary with a great top 10 list of things that made another fantastic night of hockey in the Peg'.
Startribune:  Welcome to the new border battle.  The scrum at the end of the game showed that these two teams, playing 6 times a season, are going to leaves fans exhausted if they can continue the 60 minutes of edge of your seat hockey like they did last night.

Winnipeg Sun:  Jets snapshots – proving their mettle.  No first-period goal, what gives.  GST to start the night.  Eric Fehr's surprise start.  Pavelec was sensational.  Heatley was focus of boo birds.  Bogosian's patience.  Miettinen a good pickup.  Little's open net miss.  Oduya's defensive play.  Fans still love a fight.  Mark Chipman's daughter was on smooch cam.
Winnipeg Free Press:  Miettinen could see action soon.  Many were surprised that the Jets made the waiver claim and snatched him from division rival Tampa Bay.  When we spoke with Mikko Koivu who had occassion to play with Miettinen, they felt he would add something to this team.
StarTribune:  Blow to the head leaves Bouchard in a pool of blood.  As the league looks at everything expect them to be taking a gander at this one.  Bogosian didn't have  any comment following the game.  It is always unfortunate when this happenes, and even more so to someone like Bouchard who is coming off a long lay off due to concussion.  Another forward who experienced an even longer long lay off was Guillaume Latendresse but he showed few ill effects as he scored the lone Wild goal.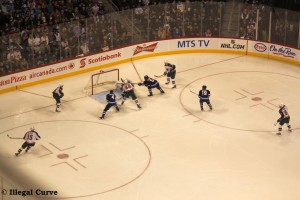 Pioneer Press:  Wild-Jets rivalry is born.  Many fans are already eager to check out the next Wild and Jets game, which takes place February 13th in St. Paul, Minnesota.  You can expect a lot of Jets fans to make the drive down to see their home team on the road.
Game Recaps – Jets 2 Wild 1:
Winnipeg Jets audio:  Zach Bogosian, Ondrej Pavelec and Bryan Little.
Minnesota Wild audio:  Cal Clutterbuck, Guillaume Latendresse and coach Mike Yeo.
Illegal Curve: Post-game podcast.  Host Drew Mindell & analyst Richard Pollock recap all of the games events' and provide their insight, analysis, and opinion.
Illegal Curve:  Jets on a Deadline.  Recaps, audio, video highlights and the night's 3 Stars.
Next opponent news – Washington Capitals:
Washington Post:  Flyers Jagr hears boos, gets last laugh.  The former Capital heard it from the fans at the Verizon Center last night but it didn't matter as his Flyers team rolled over the Capitals 5-1.
CSN Washington:  Vokoun's bad night.  The Caps are going to be looking to have a Jets-style bounce back game in Winnipeg on Thursday night.
Washington Post:  Dale Hunter makes Capitals watchable again.  Perhaps they are better to watch but they are 4-6-0 in last 10 and sitting 12th in the East, 1 point back of the Jets.  Thursday is going to be a massive game.
Teemu Watch:
NHL.com:  Tkachuk feels fortunate to have been Selanne's teammate.  That young Jets team of the early 90's was destined for great things fans in Winnipeg were promised.  While many expected them to gel into a Stanley Cup contender, a dream never realized, the talented group gave Jets fans something to cheer about night in and out in that 1992-93 season.
Winnipeg Free Press:  Flash back – this is where is all began. Some folks circled the Montreal game or a Leafs game on their calendar as games they had to attend.  For myself and 1000's of other Peggers, I put the return of Teemu Selanne at the top of my list as I feel it will be a night quite like no other.
Los Angeles Times:  After long wait, Teemu Selanne returns to Winnipeg.  About the only thing sweeter than seeing the Finnish Flash return to Winnipeg as a visitor for fans, would have been to see him in a Jets uniform all season long.  While that wasn't to be, despite Jets brass calls of inquiry in the summer, fans of his in the city will have to enjoy their one night of with Teemu back in the city where he made so many memories.
Globe and Mail:  Teemu Selanne pumped up for return.  You could hear the excitement in his voice yesterday.  He wrote a blog in Finnish last week talking about his return to this city and what it means to him.  While his time wasn't long here, he has maintained a connection to the city that has spanned the years.
Illegal Curve:  Teemu Selanne conference call.  If you'd like to hear the Finnish Flash talk about returning to Winnipeg, we have the audio.