Note:  In case you missed any moment from the 2015 NHL Entry Draft we have you covered with a complete recap of both days in South Florida.  For everything Jets that happened in Sunrise click here.
Jets news:
Sportsnet:   Montreal tops free agent Frolik's list.   Add another team as a potential landing spot for the Jets versatile winger.
Winnipeg Free Press:  Jets fuelling up for the future.  Ed provides you with his wrap up on all things Winnipeg that went down at the draft.
Winnipeg Free Press:  Chevy making a name for himself with NHL draft.  No rest for the weary as the Jets GM won't have any down time to enjoy the drafting they just did this past weekend as he gets ready to fill any holes in the roster.
Winnipeg Sun:  Maurice open to bringing Burmi back.  He certainly sounded positive when we spoke to him during the 5th round on Saturday.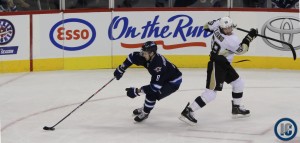 Winnipeg Sun:  Connor coach praises potential of Jets' pick.   Always interesting to gain some insight from a player's former coach.
DK on Pittsburgh Sports:  Penguins eyeing Frolik in Free Agency.   Looks like there could be a couple of Jets being targeted by the Pens in a few days.
Vancouver Sun:  Jansen Harkins packing more skill than his old man.  This article is from a few days ago but gives you some insight into the Jets 2nd round selection.
Audio (ICYMI from this past weekend):
TSN 1290 Winnipeg:  H&L with Illegal Curve.  Mark Chipman discusses the 2015 NHL draft, the Winnipeg Jets, the return of the Moose to Winnipeg, NHL expansion and the move to 3 on 3 overtime as well.
TSN 1290 Winnipeg:  H&L with Illegal Curve.  TSN's Director of Scouting Craig Button joins TSN 1290 at the draft. Button discusses the draft, what goes in to ranking prospects and the Winnipeg Jets.
TSN 1290 Winnipeg:  H&L.  USHL commissioner Bob Fallen discusses the state of the league, plans for expansion and Winnipeg Jets draft pick Kyle Connor.