Winnipeg Free Press:  Jets rise to occasion.  It was one of the most complete games the Jets have played all season.  All four lines were working.  Especially loved seeing the GST line reunited.
Winnipeg Free Press:  We saw Big Buff at his best.  For those like IC editor Richard Pollock it was validation of what he has been saying for quite some time, that the big man can play some excellent defence yet still brought the scoring touch to Winnipeg's back end.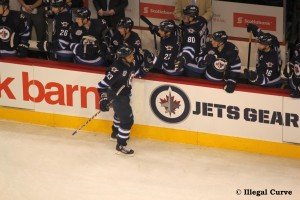 TBO:  Winnipeg's love affair with hockey evident.  Another example of people who weren't ever exposed to Winnipeg before getting to experience the hockey mad market we are.
Winnipeg Sun:  Jets Kulda confident he can play.  He didn't look out of place last night.
Winnipeg Sun:  Jets snapshots – pretty good when using legs.   Big Buff was rockin, PK was 100%, Slater sacrificing body, Flood's high level of play, leading league in minor penalties, Noel line juggling and Jason Jaffray's return to the NHL.
Winnipeg Sun:  Jets an up and down enigma.  He is right.  Every time you think the Jets will be basement dwelling for the season, they put on a performance that surprises everyone, including the other team.  Can they be consistent?  We will see when they take on Alex Ovechkin and the Capitals Thursday night.
Winnipeg Free Press:  Jets imitate Blue with licence plate.  You can expect these to sell out similar to the way the Bombers plates did.
Winnipeg Free Press:  Ex-Moose has fond memories.  Seeing the name Shannon on the ice made me think of Darryl and Darrin Shannon from the Jets 1.0.  Despite the fact that he only played 13 games for the Moose, nice to see he has fond memories of the Peg' and followed the return of NHL story.
Globe and Mail:  Jets return to winning ways.  The team did all the little things necessary to win.  They got dirty in the corners, took quality shots, made crisp passes and finally scored more than a few goals to give Pavelec (who was strong once again) some scoring support.
TSN:  Jets used strategy, sacrifice to snap losing skid.  They also managed to effectively use the crowd.
Chris D:  Jets line changes lead to "A-game" outing.  Darren brings some post-game video to his report from last night's game.
Metro:  Jets vs. Jets in skills match.  We will be bringing you all the action from the skills competition tonight.  Be sure to stay tuned to IC's twitter @illegalcurve for all the latest.
Jets next opponent news – Washington Capitals:
Washington Post:  A 15-game snapshot of the Capitals.  If you are curious how the Jets next opponent has performed through 15 games this season, wonder no longer.