TSN's Bob McKenzie:
"The Jets and Sabres are hard at work on a trade involving Evander Kane. Buffalo has the assets to work with (2015 1st round picks from NYI & STL), prospects such as Joel Armia (Ed. note I: 2011 1st round pick, currently in AHL, 25 PTS in 33 games), rental wingers Chris Stewart/Drew Stafford, plus, if Buffalo opts to put Tyler Myers into the equation, it will get very interesting for Winnipeg. Anyway, Buffalo is aggressively pursuing. Is it possible that Evander Kane is traded by the time I land (Ed. note II: Bob is on his way to NBCSN Studios)? No guarantees, of course, but Buffalo and Winnipeg are hard at it. (Ed. note III: Darren Dreger confirms McKenzie's report, saying the deal is not done, but heating up).
Note 1: The Jets defeated the Minnesota Wild 2-1 in overtime last night, finishing their 3 game Central Division home-stand with a record of 2-0-1. The Jets are next in action on Thursday night, as they head into Music City, USA (Nashville) for a game versus the NHL's best team, the Nashville Predators.
Note 2: NHL Mid-Week will be on TSN 1290 Radio tonight from 6:00 PM – 8:00 PM. Join Drew, Richard and Ezra as they analyze last night's Jets-Wild game, and preview tomorrow night's Jets-Predators game. Guests: Willy Daunic (Predators radio play by play broadcaster) and Dave Stubbs (Montreal Gazette).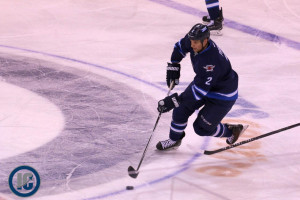 Winnipeg Free Press (Tim Campbell): Buff Has the Right Stuff, Jets Earn 2 Points
Winnipeg Free Press (Tim Campbell): Hutchinson Train Gets Back on Track After Brief Derailment
Winnipeg Free Press (Video): Tim and Gary Discuss Kane & the Playoff Push
Winnipeg Sun (Ken Wiebe): Byfuglien Provides the Drama, Gets the Jets a 'W'
Winnipeg Sun (Paul Friesen): Whatever Ailed the Jets, Has Now Been Cured
Winnipeg Sun (Ken Wiebe): Adam Pardy Dangles, Takes Roller-Coaster of a Season in Stride
Canadian Press (Joshua Clipperton): Noel Back at Hockey University with WHL's Vancouver Giants
Jets on a Deadline
Paul Maurice Postgame Press Conference
Winnipeg Jets Post-Game Audio (Hutchinson, Scheifele, Byfuglien)
Minnesota Wild Post-Game Audio (Mike Yeo, Devan Dubnyk, Zach Parise)