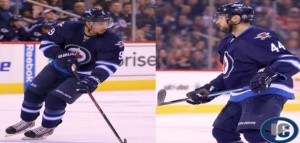 Darren Dreger is reporting that injured Winnipeg Jets LW Evander Kane, defenseman Zach Bogosian and un-signed college goaltender Jason Kasdorf have been traded to the Buffalo Sabres in exchange for defenseman Tyler Myers, pending UFA forward Drew Stafford, 2011 1st round pick RW Joel Armia (16th overall, currently playing in AHL with Rochester), 2014 2nd round pick LW Brendan Lemieux (31st overall, currently playing in OHL with Barrie Colts), and a 2015 1st round draft pick (reportedly the lowest of the 3 1st round picks currently owned by the Sabres in the 2015 NHL Draft).
Joel Armia (6 ft. 3 in, 201 lbs.) turns 22 on May 31st, and has amassed 25 points (10 goals, 15 assists) in 33 games played for the Rochester Americans.
Brendan Lemieux (6 ft. 1 in, 210 lbs.) turns 19 on March 15th, is the son of former NHL player Claude Lemieux, and was the Sabres 2nd round pick (31st overall) at the 2014 NHL Draft. He's currently with the Barrie Colts of the OHL, and has amassed 50 points (35 goals, 15 assists) in 46 games played.
More to come…