Note:  Following the 8-2 win over the Panthers, the Jets will take a day off from practice before they venture to Dallas and Chicago for back to back games on Thursday and Friday.  Coach Maurice is clearly trying to conserve his team's energy as they continue with a condensed part of their schedule.  As always stick with @illegalcurve for all the latest Jets news.
Jets news:
Globe and Mail:  Paul Maurice reaches a significant coaching milestone.  I always enjoy when Eric Duhatschek puts pen to paper and Jets fans get to enjoy this one he wrote about the bench boss.
CBC:  Jets' mid-season report praises coach, goalies.  Jeff grades the forwards, defence, goalies, coaching, power play and penalty kill.  
CBS Sports:  Eye on Hockey – Byfuglien's move back to defense boosting Jets.  Chris writes about how the injuries on defence resulted in a unusual boost for the team.
Winnipeg Free Press:  Jets sticking to Maurice's plan.  Tim writes about the way the coach has the players dialed into the 'bigger picture' in a way that allows them to 'not sweat the small stuff'.
Winnipeg Free Press:  After slow start, free agent signing paying off big time.  Slow and steady wins the race and Perreault is showing that his signing was well worth it.  He has picked up 22 points (13 goals and 9 assists) in his last 19 games.
Winnipeg Free Press:  Perreault a 'four-middable' star of Jets' win over Panthers.  It was an unreal night at the MTS Centre as Perreault turned a random Tuesday night into total pandemonium.
Winnipeg Sun:  Perreault pops four in Jets win.  Luck was on Perreault's side all night long, including when Dustin Byfuglien tried to pie him in the face during a post-game interview, and actually got more on the IC microphone than he did on Perreault's face.  Quite the evening and Ken breaks it down here.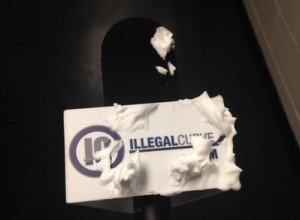 Winnipeg Sun:  Maurice scores 500th win as Jets beat Panthers.  The coach was humble in talking about the 500th win of his career.
Winnipeg Sun:  Jets coach Maurice on penalty habits: 'It's who we are'.  When you play an aggressive style as the Jets do there is a certain expectation that you will take some more penalties than other teams but the Jets have to be wary of taking away the momentum, even with a strong penalty kill.
Florida Sun-Sentinel:  Panthers end epic trip with 8-2 loss to Jets as Perreault scores four goals.  A really substantial recap of the loss from the Panthers beat writer.
The Score:  Crazy Jets fan flings popcorn everywhere to celebrate route of Panthers.  What they didn't catch on TV was that this cross between Seinfeld's David Puddy (in the Joe Mayo fur coat episode) and a member of the Thundercats was trying to win a $50 gift certificate during a commercial timeout.  I had noticed him in the 1st period and figured he would provide some laughs.
Sportsnet:  Perreault scores four goals (video).  If you missed any of the goals check them out here.
Jets 8 Panthers 2:
Winnipeg Jets:  Michael Hutchinson, Mathieu Perreault and Dustin Byfuglien.
Florida Panthers:  Willie Mitchell and Coach Gerard Gallant.
Coach Maurice post-game presser:  Coach Maurice met with the media following the game against Florida.
Pressbox Podcast:  Host Drew Mindell and analyst Richard Pollock break down the Jets play against the Panthers last night.
Gail McDonald chat:  The Safeway contest entrant talks about coming oh so close to winning a million dollars.
Coach Maurice gets 500th win:  The major milestone was overshadowed by all the other action but the Jets bench boss ties Toe Blake with this victory.