Note:  Following last night's tough 3-2 loss with just a few seconds remaining on the clock the Jets have to immediately put it behind them and get ready for a tough road trip out West.  They start with a date in Arizona on Thursday but will have a couple of days in Winnipeg to practice in advance of the trip.  Be sure to follow @illegalcurve for all the latest Jets news.
Jets news:
CBC:  It's OK Jets fans, still plenty to feel good about.  Jeff starts with the tough loss to the Sharks as well as discussing the depleted roster, the Perreault show, Mo magic and How clutch is Hutch.
Winnipeg Free Press:  Non-stop penalty killing a drain on depleted roster.  It isn't just a special teams goal against that is a killer.  It is the energy you lose killing off the penalty that can tremendously impact a game.
Winnipeg Free Press:  Sharks take late bite out of Jets.  Just 4.5 seconds remained in the game but a lost faceoff and lost coverage meant the Jets ended the night without any points in a game that they probably didn't deserve any but looked like they would get at least one.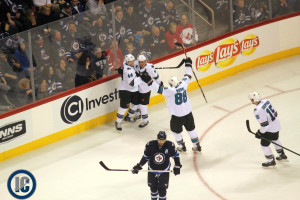 Winnipeg Sun:  Sharks stun Jets with late goal.  Maurice is fond of the term 'compete' and last night as he rightly points out his team just didn't do enough of that to pull off a victory.
San Jose Mercury News:  Sharks win on Vlasic's goal in final seconds.  A look at the game from the paper that covers the Sharks (although its worth pointing out that it was written by a local correspondent).
Illegal Curve:  Grant Clitsome day-to-day.  From the sounds of it he is more likely week to week.
Sportsnet:  Byfuglien superhero to evil injury bug (video).  Instead of folding due to a handful of key injuries, Dustin Byfuglien and the Winnipeg Jets have risen in the standings.
TSN 1290 Winnipeg:  Maurice poised to establish coaching milestone.  Paul comes out of the booth to pen or type (depending on which medium he prefers) this blog post on the milestone that coach Maurice is approaching.  He also covers the emergence of Ben Chiarot.
TSN 1290 Winnipeg:  The Big Show (audio).  Shane Hnidy joined the guys to discuss why Dustin Byfuglien has been garnering praise for his play during the Jets' injury-plagued stretch on their blue line and outlines why Byfuglien's play Saturday night against Toronto was Big Buff at his best.
World Juniors:
Globe and Mail:  Canada takes gold in heart-stopping victory.  There were plenty of eyes in the press box last night attempting to watch the Jets game while keeping eyes on the gold medal game as well.  Congrats to Jets prospects Nic Petan, Josh Morrissey and Eric Comrie who can add World Junior gold medalists to their repertoire.
ESPN:  Jets prospects stand out.  Discussion about the impact of the Jets prospects but it requires you to be an ESPN insider to read the full article.
Sharks 3 Jets 2:
Winnipeg Jets:  Michael Hutchinson, Andrew Ladd and Jay Harrisson.
San Jose Sharks:  Brent Burns, Marc-Edouard Vlasic and Coach McLellan.
Coach Maurice post-game presser:  Coach Maurice met with the media following the game against San Jose.
Pressbox Podcast:  Host Drew Mindell and analyst Michael Remis break down the Jets play against the Sharks this evening.
Jets on a Deadline:  Game recaps, post-game audio, video highlights and the NHL.com 3 Stars of the night.