Note:  Tune into the Illegal Curve Hockey Show on TSN 1290 Winnipeg from noon until 3 pm today as we break down last night's game against the Predators and look ahead to tomorrow's game against the Calgary Flames.  We will also take a look around the NHL.  Guests:  Michael Traikos (National Post), George Johnson (Calgary Herald) and Amanda Stein (TSN 690).   Saturday Spotlight Feature:  Martin Biron.
Jets news:
Winnipeg Free Press:  Crash landing for Jets at home.  While the game kicked off with a fun pre-game ceremony there wasn't much pizazz when it came to the game play.  The line of Mark Scheifele, Blake Wheeler and Dustin Byfuglien showed up and but for the effort of Pekka Rinne it could easily have been a different result.
Winnipeg Free Press:  Wakey-wakey, sleeping Jets.  The Jets showed some fight but unfortunately for fans at the MTS Centre last night it came too late.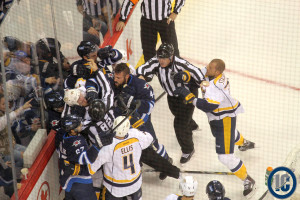 Winnipeg Sun:  What happened to the goals?  Just goes to show how quickly the focus can change from what is happening in the crease to the other side of the ice and what isn't happening in your opponents crease.  Fans are left wondering where is the fire power going to come from this team?
CBC:  Jets home opener draws hockey fans from near and far.  It may not have been the most exciting game to drive down for but good to see that the team is attracting folks from outside of the city.
Predators 2 Jets 0:
Winnipeg Jets:  Andrew Ladd, Mark Scheifele and TJ Galiardi.
Nashville Predators:  Coach Laviolette, James Neal, Pekka Renne and Olli Jokinen.
Coach Maurice post-game presser: Coach Maurice met with the media following the game against Nashville.
Jets on a Deadline:  Game recaps, post-game audio, video highlights and the NHL.com 3 Stars of the night.