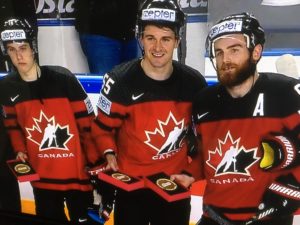 In nine games over in France and Germany the Jets Mark Scheifele has three goals and five assists for eight points helping Canada get to the Gold Medal game in the 2017 World Championship which included a 4-2 comeback win over Russia today in the semi-final.  Following the game this afternoon in Cologne, Germany they handed out the Top 3 players of the tournament for Team Canada and the Jets centre was a recipient of some hardware.
His biggest goal of the tournament was today as he brought Team Canada back from a 2-0 deficit on the power play to cut the Russian lead in half.
Team Canada will take on Team Sweden tomorrow at Lanxess Arena in Cologne.