The much talked about hiring of Charlie Huddy as an Assistant Coach of the Winnipeg Jets was made official by the team a few moments ago.
In addition to the hiring of Huddy, the team also announced that Wade Flaherty has been hired as Goaltending Coach and Tony Borgford as Video Coach.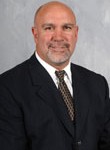 Huddy has been an NHL Assistant for the past twelve years with stints in New York with the Rangers, Edmonton, and Dallas. His longest tenure was with the Oilers from 2000-2009. He also served as head coach of the Huntington Blizzard of the ECHL in 1997-98.
Wade Flaherty has spent the past three seasons as developmental goaltending coach with the Chicago Blackhawks. He played professional hockey for 19 seasons, including three seasons in Manitoba with the Moose. He also was the goaltender for the Milwaukee Admirals when the team won the AHL Calder Cup in 2003-04 under the guidance of current Jets head coach Claude Noel.
Tony Borgford has been with the Atlanta Thrashers organization since its inception in 1999, and joined the hockey operations department in 2000. He became the Video Coordinator/Coach in 2002, a position he held with the Thrashers until the franchise's relocation to Winnipeg. He will continue in the same role.