The roster got even smaller today as the Jets went from 48 players to 37 after another 11 were cut today.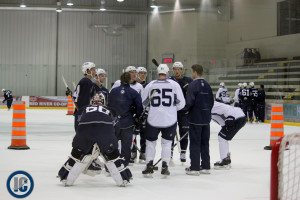 They re-assigned the following players to the IceCaps;
Austen Brassard
Blair Riley
Brenden Kichton
Cody Sol
J.C. Lipon
Jason Jaffray
John Albert
Jussi Olkinuara
Kael Mouillierat
Will O'Neill
Ian White was released from the PTO.
This means the following cuts have been made:
Or to make it easier to read, here are the guys that are left:
Forwards (21):
Evander Kane, James Wright, Jim Slater, Chris Thorburn, Eric Tangradi, Devin Setoguchi, Mark Scheifele, Anthony Peluso, Andrew Ladd, Bryan Little, Jerome Samson, Blake Wheeler, Patrice Cormier, Ivan Telegin, Adam Lowry, Eric O'Dell, Olli Jokinen, Matt Halishchuk, Andrew Gordon, Carl Klingberg and Michael Frolik.
Defencemen (12):
Jacob Trouba, Zach Redmond, Josh Morrissey, Zach Bogosian, Ben Chiarot, Julian Melchiori, Adam Pardy, Paul Postma, Toby Enstrom, Mark Stuart, Grant Clitsome, Dustin Byfuglien.
Goalies (4):
Eddie Pasquale, Ondrej Pavelec, Michael Hutchinson, Al Montoya.