Remis and I just returned from an exciting morning at 17 Wing where the Winnipeg Jets had an elaborate release of the Jets jersey.  The following are some pictures that help to sum up the much anticipated release.  (remis will be posting all the transcribed audio and 1 on 1 interviews later this afternoon).
There were 3 levels of security before we got to the air field:

Walking out of the Hanger and onto the tarmac.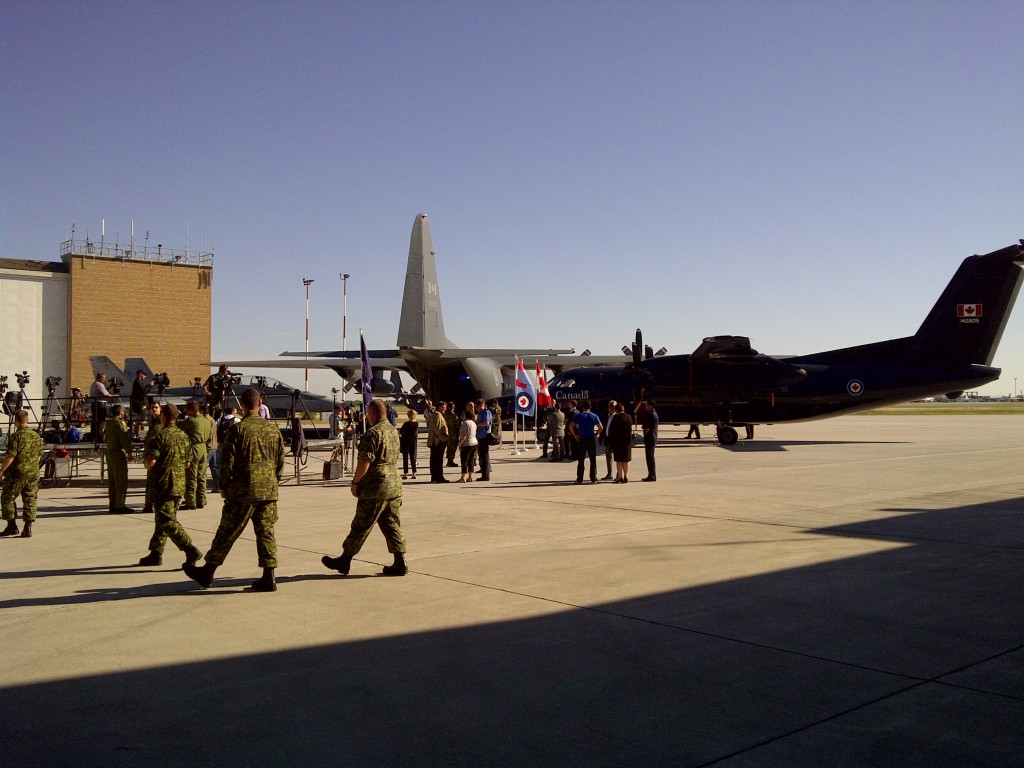 The media presence was significant

More after the jump.
The True North brain trust waiting for the Jersey reveal to begin.

The show is about to begin.

The doors to the C-130 Hercules open with music blaring in the background.

And then the Jets (Ladd, Fehr, Stuart & Antropov) stepped out of the plane.

Then they went to the podium where Jets GM Kevin Cheveldayoff gave an in-depth analysis of the jersey.  Which colours (Polar Night Blue & Aviator blue) were chosen and then discussed the various patch's to be worn this season, including one for Opening Night and another for remainder of the season.

Here are some up close and personal shots with your Winnipeg Jets wearing the new Winnipeg Jets jersey.
Jets captain Andrew Ladd checks out his jersey.

We had a great interview with the Jets Mark Stuart.  He seems very happy to be in Winnipeg.  If you are looking for a player's jersey to buy, we think Stuart is a worthwhile purchase.

IC's Michael Remis with a 1 on 1 interview with Winkler, Manitoba's Eric Fehr.  The conversation ran from Fehr's impression of the jersey to his thoughts of the Toronto Blue Jays stealing Brett Lawrie from the Brewers.

Remis asks Nik Antropov his thoughts on the jersey.

Stuart and Fehr seemed reluctant to hand back the jerseys to the True North staff.
The True North flag, along with the Canadian flag flying high after an incredible morning reveal.

We've heard what the players think of the jersey, what is your first impression?
Just a final thought.  A special thanks to all the Air Force personal who were so friendly and happy to give us lay folks information (i.e.  what type of plane the Jets players came from) during our time at 17 Wing.