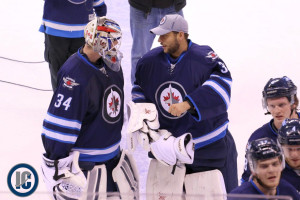 Earlier this week I took a look at the question as to which goalies should start the season with the Jets when they kick off the 2016-17 season at home.  When Eric Comrie was sent to the Moose it left Winnipeg with Ondrej Pavelec, Michael Hutchinson and Connor Hellebuyck who at the time I wrote that last piece had each played one game for Winnipeg.
Which brings us to today.  Michael Hutchinson played (and won) against the Senators on the 3rd while Connor Hellebuyck played (and lost) to the Oilers on the 6th. The expectation was that Ondrej Pavelec would start the final pre-season contest tonight's in St. Paul giving each goalie two pre-season starts.  That was conventional wisdom which got tossed out the window when it was revealed that Michael Hutchinson would start against the Wild with Ondrej Pavelec playing the role of back up.
Of course that fueled speculation that some sort of move was happening with the Jets goalie question.  Gary Lawless of TSN chimed in with these tweets:
Pavelec not playing for #nhljets tonight. IMO – something is afoot. Could be a trade, could be waivers. Played one game in 6 months. Curious

— gary lawless (@garylawless) October 8, 2016
Original #nhljets plan was to give all 3 goalies 2 games. Hutch getting a third and Pav shut down after 1. They're getting Hutch into rhythm

— gary lawless (@garylawless) October 8, 2016
Maybe it's as simple as Hutch is #nhljets #1 to start but only giving Pav one game is curious. My guess is a trade or waivers. We'll see

— gary lawless (@garylawless) October 8, 2016
Some discussion out there that Pavelec is injured. He's listed to backup Hutchinson for #nhljets today. All speculation. But this is curious

— gary lawless (@garylawless) October 8, 2016
Ken Wiebe of the Winnipeg Sun didn't feel that a move with the Jets goalie was imminent:
Just my opinion but don't see today's turn of events as a sign of #NHLJets G Ondrej Pavelec being in any danger of being sent down or traded

— Ken Wiebe (@WiebeSunSports) October 8, 2016
And finally from Ken's colleague at the Winnipeg Sun, Ted Wyman who was at the IcePlex for pre-game skate this morning added this:
Saw Pavelec wincing at one point and looked like he was trying to stretch something out. If he backs up tonight, can't be serious. #NHLJets https://t.co/iCIjxyLM9c

— Ted Wyman (@Ted_Wyman) October 8, 2016
Which leaves many wondering what is happening in net? Perhaps Pavelec isn't 100% but if so then why wouldn't Connor Hellebuyck be backing up Hutchinson tonight? Seems we have more questions than answers right now. Stay tuned to illegalcurve.com and on social media including Twitter| Facebook | Instagram for any and all Winnipeg Jets news.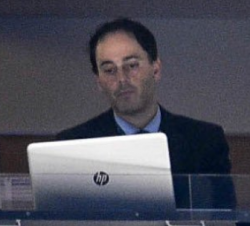 Latest posts by David Minuk (see all)