Matt Halischuk has been with the Jets organization since he was signed as a UFA back on July 11th, 2013.  In that time he played 46 games (2013-14), 47 games (2014-15) for Winnipeg before splitting his time last season between the Moose (39 games) and the Jets (30 games).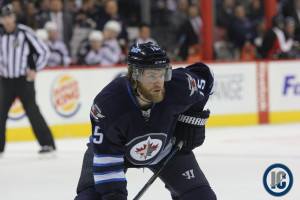 With a glut of players challenging for the 3rd and 4th line positions with the parent club it seemed like a spot for the 28 year old Halischuk might not be available.  This appeared to be confirmed by the Jets GM yesterday during his scrum with us at the conclusion of the first day of free agency when he responded to a question about moving away from UFAs such as Matt Halischuk "At this point in time I don't see an NHL contract for Matt Halischuk.  Again, there still may be the opportunities out there but sitting here today the last conversation we had we haven't reached out and offered anything yet."
While that would seem to close the door on Halischuk returning to the parent club the GM does appear to leave the door open when he said "I don't see an NHL contract" meaning the team could simply sign him to an AHL deal to give the Manitoba Moose some veteran leadership.  And while he appears to suggest that if there is an NHL deal to be had for the Canadian forward he is welcome to seek it out, the Jets GM also added "yet" to end his response indicated that they still may offer him something if they don't find any additional pieces.
Perhaps, if Halischuk is unable to find a better deal with another NHL squad, he will simply be signed to an AHL deal similar to what Moose captain John Albert had last season.