The Jets announced that Jets GM Kevin Cheveldayoff, who was in year three of a five year contract had received a contract extension.  He and Executive Chairman & Governor Mark Chipman met with the media at the MTS Centre today and spoke about the extension.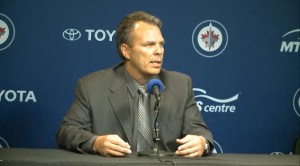 Audio courtesy of TSN Radio 1290.
Highlights from Presser:
Mark Chipman:
– "Our plan is very simple, it's about reinvestment in the organization from top to bottom"
– "I hold Chevy in high regard and have had a chance to observe his abilities. I've learned we probably underestimated his abilities"
– "I cannot tell you how much confidence I have in his abilities, he's fit in seamlessly into our organization"
– "Our fans deserve to know that we have a plan and what it is. One of the biggest parts is having the team in the hands of Chevy"
– I'm confident we are on the right track. It will prove itself over many years. I'm comfortable with the way things have progressed
– I have a high degree of confidence, it occurred to me a long time ago, it made sense to formalize that. We are just getting started
– It has been a thoughtful deliberate process that has given us confidence" Cites 2011 and 2013 drafts.
– "Kevin delivered exactly what we expected of him in the first couple of years. He's exceeded in that he's organized 3 very good drafts"
Kevin Cheveldayoff:
– We have to find a way to create stability, culture and expectations. We're trying to bring young players in who will push the bar
– Feels confident that Evander Kane can take the next step this season.