The Jets GM spoke to the media today as Development Camp came to a close.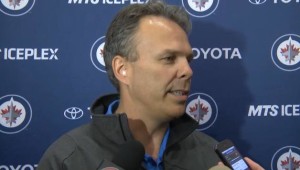 Kevin Cheveldayoff –  Initial thoughts on the Development Camp.  More about off ice development than on ice?  Jets depth at goalie.  What did he see from Josh Morrissey?  Getting Postma signed.  Opportunity for Postma.  Blake Wheeler tweet.  Concern about the Arbitration process.  Salary cap concerns.  What does Adam Pardy bring to the organization?  How has Zach Redmond's summer been going?  Burmistrov question.  What does Matt Halischuk bring?  Thoughts on the schedule.  Filling the AHL cupboard.
Audio courtesy of TSN Radio 1290.