The Jets were practicing at First Niagara Center in advance of tonight's game against the Sabres.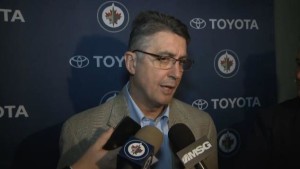 Coach Noel – Leader in terms of consistency.  Kane doesn't have to shoulder the load.  Record against the Eastern Conference.  Will his coaching be more hands on or hands off in second game of back to back.   Easier to have his players focus on themselves rather than opponent?  What's he looking from Eric O'Dell if he gets into the lineup?  How has O'Dell been playing?  Could he be used on the wing? Decision on a goalie.

Audio courtesy of TSN 1290 Winnipeg.