Note: After the game, be sure to check us out for all the post-game reaction.  As soon as the site is updated we notify you via twitter @illegalcurve and Facebook.
Note II: For away games we have our #ICGWG contest. Make sure to @ tweet @illegalcurve with your guess. Remember that for your vote to qualify you must send in your guess using a hashtag (#). (i.e. #ICGWG Wheeler).
Jets news:
Winnipeg Sun:  Notes from the Road.  Ken provides plenty of great pre-game reading material for Jets fans who need a fix before puck drop.
Winnipeg Free Press:  Pavelec back in Jets net tonight, O'Dell a question mark. There was some surprise with coach Claude Noel's decision to go back to Ondrej Pavelec but he clearly feels his that what he wanted goalie coach Wade Flaherty to work out with his #1 has been accomplished.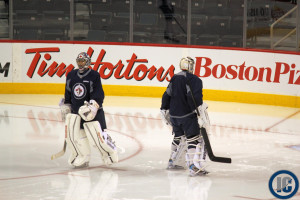 Winnipeg Sun:  Jets vs. Sabres gameday.  Ken is in Buffalo and gives you this report in advance of tonight's game.
TSN:  Pavelec starts in goal as Jets face Sabres in Buffalo.  With James Wright being a game time decision due to flu how does that impact your #ICGWG decision?
CBC:  Kane boosts Jets' offence for Buffalo visit.  A preview of the action in Buffalo.
CBC:  30 Thoughts & Conference switch weighs heavy on Jets.  A late addition to the morning papers, in Friedman's column he devoted the pre-amble of his 30 Thoughts column to the Jets struggle to adapt to the West.  No further Jets thoughts in the 30 points however.
Illegal Curve:  Coach Noel pre-game.  Leader in terms of consistency.  Kane doesn't have to shoulder the load.  Record against the Eastern Conference.  Will his coaching be more hands on or hands off in second game of back to back.   Easier to have his players focus on themselves rather than opponent?  What's he looking from Eric O'Dell if he gets into the lineup?  How has O'Dell been playing?  Could he be used on the wing? Decision on a goalie.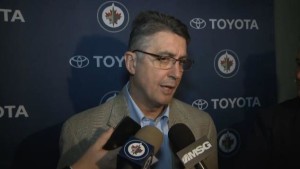 Illegal Curve:  Game Day Set-Up.  Ezra looks at both teams and gives you some thoughts as well as the starting goalies and projected lineups.
Illegal Curve:  Jets Morning Papers.  If you missed any of the Jets, IceCaps or Blue Jackets news we have you covered.
Sabres news:
Buffalo News:  Roster Moves.   If you want to know what is happening in Buffalo here is the info you will need.