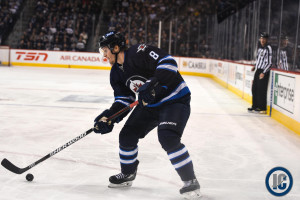 If you had November 7th, 2016 in the Jacob Trouba 'when does he sign sweepstakes' you are the winner as the Jets announced that they have come to terms with the RFA defenceman.
From Darren Dreger of TSN:
Told talk of Trouba's return to the Wpg Jets heated up a few days after Cheveldayoff met with the player last week.

— Darren Dreger (@DarrenDreger) November 7, 2016
Craig Custance of ESPN added this point:
If you're Jacob Trouba & you want out of Winnipeg, signing a reasonable bridge deal is a way to help expedite it. More valuable today.

— Craig Custance (@CraigCustance) November 7, 2016
Via Josh Cooper of Puck Daddy:
Signing Trouba doesn't mean the Jets won't trade him, it just means the player is under contract and teams know his value if they want to deal for him. Trouba's agent Kurt Overhardt, represented Ottawa Senators forward Kyle Turris when Turris held out from the Arizona Coyotes and demanded a trade. Turris signed a two-year bridge deal with Arizona on Nov. 22, 2011 and was traded to Ottawa on Dec. 17 of that year. Turris cashed in on a five-year $17.5 million contract when his bridge deal ended.
Full article here.
He was the last RFA standing and we've been keeping track of the NHL teams that have been rumoured to be interested in acquiring Jacob Trouba's services.  (The last RFA standing link has more recent articles of these two links).
There was a conference call with Jets GM Kevin Cheveldayoff at 4 pm.  You can listen to the 18 minute chat here.
He may or may not be available tomorrow but regardless, I will be down at the MTS Centre covering the game day skate and will have all the latest for illegalcurve.com and on social media including Twitter|Facebook |Instagram for all the pre and post game news.
Jets Release:
The Winnipeg Jets announced they have agreed to terms with restricted free agent defenceman Jacob Trouba on a new two-year contract with base salaries of $2.5 million this season and $3.5 million in 2017-18.
Trouba, 22, had 21 points (6G, 15A) in 81 games last season with the Jets, his third season in the NHL. Over his career, Trouba has 72 points (23G, 49A) in 211 career games. Last season, he led the Jets with 177 blocked shots and was second on the team in minutes played with 1,359.
Trouba, a native of Rochester, Mich., was selected by Winnipeg ninth overall at the 2012 NHL Draft. He has won three gold medals for the United States at IIHF events, including a World Junior Championship gold medal in 2013 and a pair of U18 championship wins in 2011 and 2012.