Note:  Join the IC Crew at The Cheer Bar and Grill on Stradbrook tonight for the Jets & Hurricanes game which starts at 6 pm.
Winnipeg Free Press:  Jets shut out of all-star game.  While some might look at it like it is a snub, perhaps the optimistic way of looking at it says that Big Buff (or any Jets player who would have replaced him) can use that time away from the game to continue to get healthy.
TSN:  Jets visit Hurricanes.  Munz brings you up to speed on the latest from Jets practice including tonight's projected line combos.
Winnipeg Free Press:  Jets to start Mason tonight.  Will he pull off his 4 straight victory over the Hurricanes this season in his 300th NHL game?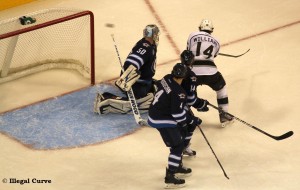 Pittsburgh Post-Gazette:  Letang to play in All-Star game.  Looks like the Jets will be unrepresented in Ottawa as it was made official today that Big Buff won't be participating in the game this year as a result of the injury.
Next opponent news – Carolina Hurricanes:
News and Observer:  Canes last test before break.  The Hurricanes can ill afford to be complacent and start focusing on the mini-break they will be getting thanks to the All-Star festivities.