Winnipeg Free Press:  Byfuglien hopeful he'll be able to play in all-star game.  He had quite the candid chat with the media which ranged from everything to do with the all-star game to his knee injury.
Winnipeg Sun:  Byfuglien battling back for all-star game.  He seemed amused at the selection process and doesn't appear to be too concerned that he will be picked last.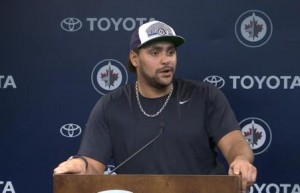 Illegal Curve:  Jets post-practice audio.  Ladd, Wheeler, Little, Glass, Hainsey, Stuart and Byfuglien.
Illegal Curve: The conclusion of the journey to Winnipeg of the traveling Sharks fans.  The second part of our Q & A with Bryan and Mike, the California Sharks fans who traveled to Winnipeg to see some hockey and left with a million memories.  Here is part 1 of the Q &A  for those that missed it.
Fox Sports:  Still waiting for Eric Fehr to heat up.  Fehr has been quite the road warrior in the past and his skills away from the MTS Centre will be just what the doctor ordered for this team.
Winnipeg Free Press:  Sports leaders to discuss boom in Winnipeg market.  Should be quite an interesting panel discussion this afternoon.
Next opponent news – New Jersey Devils:
NJ.com:  Adam Henrique says he expects to play in Winnipeg.  Lots of info on the Devils in the article.
Globe and Mail:  The Zach Parise watch.  As per usual Eric Duhatschek's column is a must read.  Covers a lot more than the Devils in this article.