Winnipeg Free Press:  Verdict delivered on Bogosian hit.  No suspension or fine for #4.  They found:
It is the view of the Department of Player Safety that in spite of the fact that there was contact with the head, when Bogosian committed to the check, he was coming for Eakin's shoulder and Eakin's change of direction and opening up after his dump-in just prior to the contact contributes enough that there will be no supplementary discipline.

TSN: Jets Bogosian meets with Shanahan over hit.  When there is any news we will be sure to tweet it so make sure you are following us @illegalcurve.  The good news is that Eakin isn't feeling any ill effects from the hit.  According to Katie Carrera of the Washington Post the ruling on Bogosian's hit will not be announced until Friday.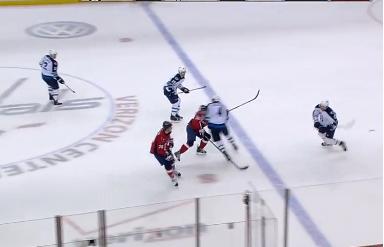 CBC:  Canadian teams after 20 games.  Would you agree with the assessment of the Jets so far?  What about who were picked as the Jets 3 stars?
Arctic Ice Hockey:  What the Jets have to be thankful for.  While it isn't Thanksgiving in Canada, our friends to the south are celebrating (Happy Thanksgiving btw).  Here is a list of the things they are thankful for.
Jets Nation:  Byfuglien – turning it around.  Big Buff is still quite polarizing a figure on the Jets back end.  If you listen to the callers to the TSN Radio 1290 post-games show with Rick Ralph, a number of Jets fans are tired of the Byfuglien experiment on defence and want to see Big Buff banging and crashing as a forward.  The good thing for those who want to see him remain on defence is that his numbers have improved.