Globe and Mail:  Penalties driving Jets coach batty.  As coach Noel said last week, when your team isn't scoring a lot, you cannot afford to give up too many opportunities, and that is just what the Jets have been doing.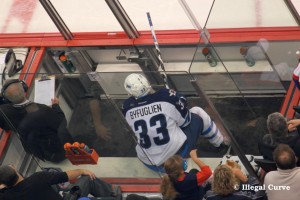 TSN:  Jets roster, lines set for Lightning.  Wellwood is like a yo yo on this team.  He must not sure what line he is going to be swung to next.
Winnipeg Free Press:  Expect close game tonight.  Is close 2-1 or 11-10?  With these two teams either is possible.
Winnipeg Free Press:  Coyotes claim MacLean off waivers.  Put MacLean in the 'hardly knew ya' category as he is returning to the club that the Jets plucked him from.
CBC:  Jets look to end Bolts' dominance.  A 2nd win this early in the road trip would really be bad news for all those (25% of respondents) who put 2 and 5 in our poll as to how many games the Jets would win this road trip.